Shrapnel Wounds Worst
Topic: Military Medical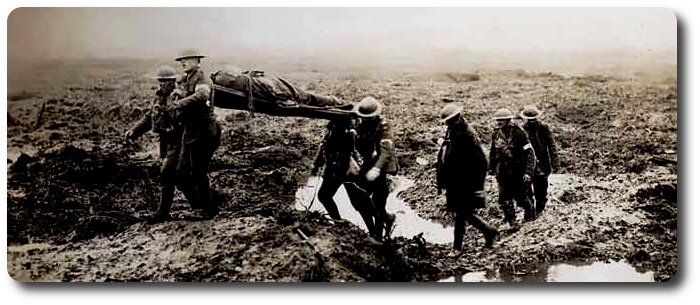 Shrapnel Wounds Worst, Because of Bad Infection
The Pittsburgh Gazette Times, 13 February 1915
New York, Feb. 12.—Shrapnel, causing infection, makes the most troublesome wounds of the present war, but bayonet wounds are the most deadly, according to Professor Walton Martin of the department of surgery of Columbia university, who was recently engaged in the American hospital in Paris and who was a speaker today at the alumni day exercises at Columbia. The number of soldiers wounded by bayonets who reach the hospital is small, the surgeon said, and from his experience behind the British and French trenches he was convinced that few men this wounded ever left the trenches alive.
Fragments of uniforms, wood and stone and chunks of soil were probed out of the wounds of soldiers felled by shrapnel, Dr. Martin said.
"The great danger is from infection," he continued. "Shrapnel makes a big wound going in and a big wound coming out." Out of 100 cases under his charge 82 wounds were caused by shrapnel and every one of these was infected. Of those due to rifle bullets one-fifth were clean and the infection in the others was milder than that made by shrapnel. In the 100 cases there was only one bayonet wound.
One lesson taught by this wart, he stated, is the necessity for a large base hospital behind the fighting lines, as the fatality list increases according to the distance the wounded have to be moved. A deplorable circumstance in his connection, he noted, is that the wounded can be taken out of the trenches only at night.

Posted by regimentalrogue at 12:01 AM EDT