Ordered to Wear Swords for King
Topic: Cold Steel

Ordered to Wear Swords for King
Military Arm for Officers Now Practically Obsolete in Active Service
The Spokesman-Review, Spokane, Washington, 6 December 1915
(Correspondent of Associated Press.)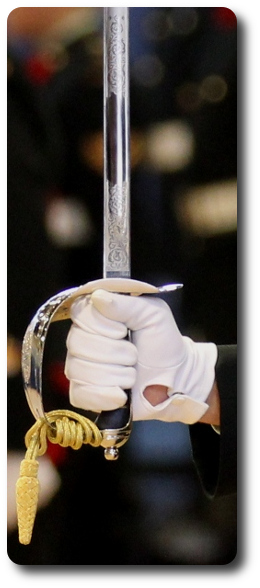 London, Nov. 15.—A curious survival of the martinet spirit of the old army appeared furing the recent visit of the King to the British troops in France, when an order was issued that the officers should appear with swords during the royal review. It was a costly order for the young officers, as few were provided with swords, which are a most expensive part of a kit.
Swords are obsolete as part of an officer's equipment in the field. Officers who had them left them at home when they came to the front. A small bamboo cane has taken the place of the sword except when in action, and then some officers carry rifles.
In anticipation of the royal review an order was issued at the headquarters by France for all officers to provide themselves with swords. This piece of antiquated etiquette fell heavily upon the purses of the subalterns. The King, on account of falling from his horse, was unable to review his troops after all. And it is said that the King would have been the last man in England to place this heavy tax on his officers for the sake of mere form had he known of the order.

Posted by regimentalrogue at 12:01 AM EDT