British Regiments Fight
Topic: British Army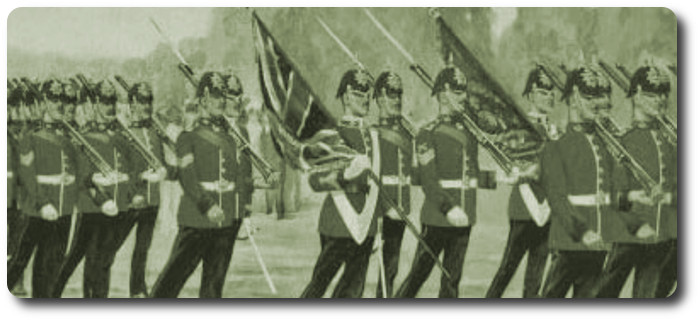 British Regiments Fight—Two Men Seriously Injured
The Glasgow Herald, 17 October 1901
Press Association Telegram
Aldershot, October 16
The long-standing feud that had existed between the Durham Light Infantry and the Worcester Regiment came to a head last night at the North Camp, Aldershot, with a free fight, in which the bayonet was freely used and ball cartridge fired. Details of the Durham Light Infantry are quartered in Blenheim Barracks, and recently a company of Worcester Mounted Infantry were also sent to the barracks, pending embarkation on the 24th inst, for South Africa.
From what can be ascertained, a quarrel in the canteen was the forerunner of a determined attack after lights-out on one of the Durhams' barrack rooms by the Worcesters, who came armed with rifles, fixed bayonets and other weapons. Every window in the barracks was smashed, and for a time the fighting was severe, during which five of the Durhams were seriously injured.
Picquets were turned out from all parts, and the combatants were separated and confined to their barrack rooms, but the picquets and special squads of military police paraded all night. The injured men were taken to the Commaught Hospital, the most serious cses being those if Private Kelly, who received a bayonet wound in the stomach, and Private Hunter, wounds in the head. A Court of Inquiry is assembling to investigate the matter.

From late inquiries it transpires four men were admitted to hospital as a result of the riot. Kelly's condition is causing great anxiety. Private Gully, Worcester Regiment, is suffering from a bayonet stab in the back, and Lance-Corporal Berry and Private Hunter, both of the Durham Light Infantry, have serious wounds in the head caused either by bullets or stones. To-day the Worcesters were removed from Blenheim Barracks to another part of the camp.

The Aldershot Disturbance
The Glasgow Herald, 18 October 1901
From inquiries made by the representative of the Central news, it appears that the squabble in the North Camp, Aldershot, between the men of the Durham Light Infantry and the Worcestershire Regiment is grossly exaggerated by the earlier reports. The disturbance lasted only 20 minutes, and most of the damage was the result of stone-throwing at the barrack windows. It was not necessary to call out the extra picquets, and all the men in the two battalions concerned were in bed shortly after 10 o'clock. The officers in authority deny that there is any regimental feud between the Durham and Worcester men, and complain that a mere barrack squabble should have been exaggerated into a serious riot. The mere handful of military police at Farnborough easily restored order without thinking it necessary even to ask for assistance from the headquarters in Aldershot Camp. The military view of the importance of the affair is shown by the fact that the investigation is being conducted, not by the General Officer Commanding, but by a regimental Court of Inquiry. The injured men in hospital are progressing favourably.

Posted by regimentalrogue at 12:01 AM EST