A Canadian Garrison for Halifax; 1905
Topic: Halifax

The Garrison for Halifax
One Thousand Canadians to Assemble
St John Daily Sun, 27 November 1905
(Special to the Sun)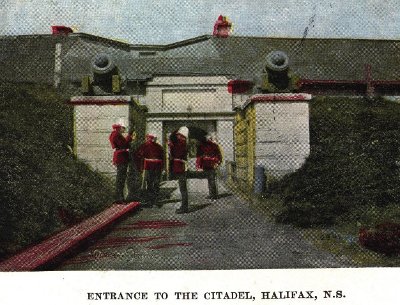 A militia order issues yesterday states that barrack accommodations being now available at Halifax, the following troops will proceed there on or about the fourth of December:
Royal Canadian Garrison Artillery, Nos. 1 and 2 companies, as strong as possible.
Royal Canadian Regiment, Nos. 1, 2, 3 and 5 companies, as strong as possible.
The following will proceed with the troops:
Royal Canadian Garrison Artillery —Lt. Col. T. Benson, on command.
No. 1 Co. —Capt. A.T. Ogilvie, Lieut. G.P. Loggie, Lt. T.W.S. Coburn, Lt. S.G. Bacon.
No. 2 Co. —Lt. E. Clairmonte, Lt. W.G. Beeman, Lt. L.S. Vien, Lt. A.H. Harris.
Royal Canadian Regiment
No. 1 Co. —Major A.E. Carpenter.
No. 2 Co. —Capt. J.H. Kaye.
No. 3 Co. —Capt. J.D. Doull, Lt. R.F.C. Horetsky.
No. 5 Co. —Capt. F.F. Uniacke, Lt. F. du Domaine.
The officers commanding the Western Ontario and Quebec commands are to inspect these details prior to their departure for Halifax.
A special inspection report is to be forwarded to headquarters for the information of the minister in militia council. The necessary transport arrangements will be made by the quartermaster general and duly communicated to all concerned. Wives and families upon the married establishment will either proceed with or follow the troops. A careful medical examination is to be made of the several detachments, and in the event of any non-commissioned officer or man being found medically unfit for service a medical board will be assembled with a view to his discharge.
The amount of baggage is limited to that fixed by regulations.
The officer commanding maritime provinces with the officer commanding H.M. regular forces is to arrange barrack accommodation for these troops and other necessary details.
As a result of this movement of the permanent force 1,000 Canadian soldiers will have been drafted to Halifax from Toronto, Kingston, and Quebec. Of this number 700 will be infantry men, nearly 200 will be artillery and the remainder will consist of details for the other branches of the service, engineers, army service corps, ordnance corps, pay staff, hospital corps, etc.
All are to be in Halifax before December 15th, when the forces will then be of the same strength as the imperial forces have been for some time, and in all the corps will be numbers of men which have served with the imperial forces on the station. The Canadian engineers, it is said, will be the only corps that will not be complete by the time mentioned, and the Royal Engineers will therefore probably remain for some months longer.
Officers of the Royal Artillery are posted as follows:
R.C.H.A. —Lt. A.W. Jamieson to B Battery, Lt. H.E. Beak to A Battery.
R.C.G.A. —
To No. 1 company —Lt. G.P. Loggie, Lt. T.W.S. Cockburn, Lt. S.G. Bacon.
To No. 2 company —Lt. And Bvt. Capt. C.S. Wilkie, Lt. L.S. Vien, Lt. A.E. Harris.
To No. 3 company —Lt. J.E. Mills, Lt. A.S. Wtight, Lt. E.B. Irving, Lt. De la C. Irwin.


Posted by regimentalrogue at 12:01 AM EDT