Canadian Navy Plans New Ship (1963)
Topic: RCN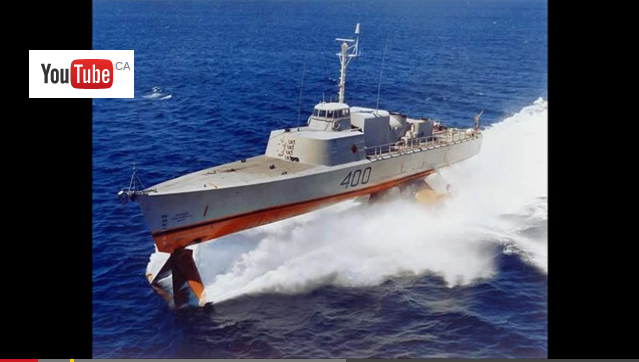 Watch HMCS Brador on Youtube
Canadian Navy Plans New Ship
The Evening Independent; 21 September 1963
Copley News Service
Ottawa, Canada — An ocean-going hydrofoil ship is being developed for the Royal Canadian Navy for antisubmarine defence.
"No country has yet produced an ocean-going hydrofoil," Vice Adm. H.S. Rayner told the Parliamentary Defence Committee, at a recent hearing. "We hope Canada will be the first to do so."
A contract for the hydrofoil R-200, which Rayner called a "very interesting vessel," has been let to De Havilland.
It will be 151½ feet in length, have a bean of 21½ feet and a draft of 23 feet in displacement mode, and 7 1.2 feet when foil borne. It will displace 180 tons and cruise at 16 knots in the displacement mode and more than 50 knots when foil borne. Her crew will be more than 20 personnel.
If successful, the ship should place Canada in the forefront of hydrofoil design and construction, Rayner said. A design for a weapons system for the craft is being worked out.
The prototype is planned to be ready for trials in 1966, and it is expected that it will take eight to nine months to test the craft thoroughly. Weapons and sonar would be installed if the trials are successful, and the navy would decide sometime in 1967 whether to go ahead with a fleet of hydrofoils.
Hydrofoils which the Canadian navy has in mind would operate for seven or eight days at sea, mainly in the displacement mode, which would give them maximum endurance. They would step up to foil borne posture only to go somewhere in a great hurry, as when in contact with a submarine.
The cost of the prototype is estimated at $13 million. Not including money for development of a weapons system.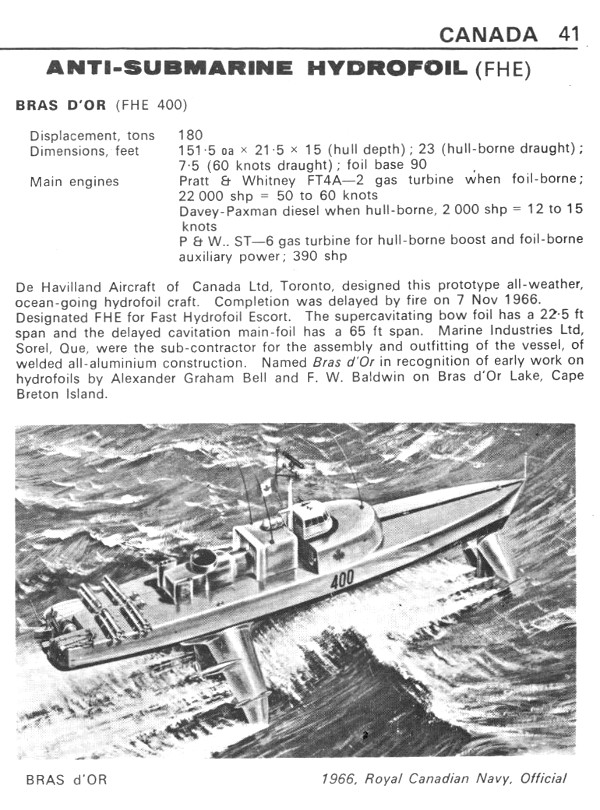 The Royal Canadian Navy entry on HMCS Brador as presented in Janes's Fighting Ships 1967-68.

Posted by regimentalrogue at 12:01 AM EST