New Emergency Kits for Seamen (1943)
Topic: RCN

New Emergency Kits for Seamen (1943)
Include Rum, Cigarettes
British Tell How to Scare Sharks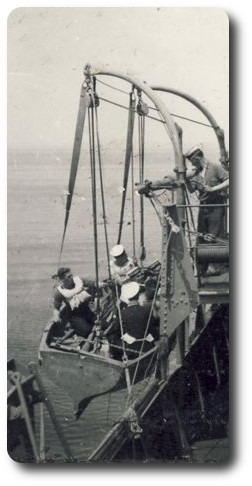 Ottawa, Jan. 22.—AP—The Royal Canadian Navy, which recently issued an emergency ration container to provide torpedoed seamen with concentrated foods and water for a number of days, announced today the production of a supplementary kit to help them battle the elements while on lifeboats and rafts.
Into each kit, with which each liferaft, boat and float is to be equipped, goes 35 ounces of rum, 180 cigarettes in a waterproof package and large-head fusees, or "wind matches" to light them. A waterproof flashlight, a highly polished mirror for day signaling, a clasp knife, fish hooks, lines, sinkers and trolling spoon, field dressings for injuries, jellies for treatment of burns and five tines of "canned water."
At the same time the British Government in London issued a booklet of instructions to seamen on how to save their lives if torpedoed at sea.
Besides advising them to jump feet first over the lower side to avoid fracturing the heels on the keel or receiving bad injuries from barnacles, the booklet told how to swim through burning oil to avoid bad burns.
"Jump feet first through the flames," it said. "Swim as long as possible under water, then spring above the flames and breathe, taking a breast stroke to push the flames away, then sink and swim under water again."
The booklet dismissed the danger of sharks in five lines. They may rub themselves against the lifeboat, it said, not to overturn the raft but to rid themselves of sea lice. They can usually be scared off by vigorous splashing.

Posted by regimentalrogue at 12:01 AM EST
Updated: Monday, 29 December 2014 10:18 PM EST