Battle Honours May Be Given Soon (1954)
Topic: Battle Honours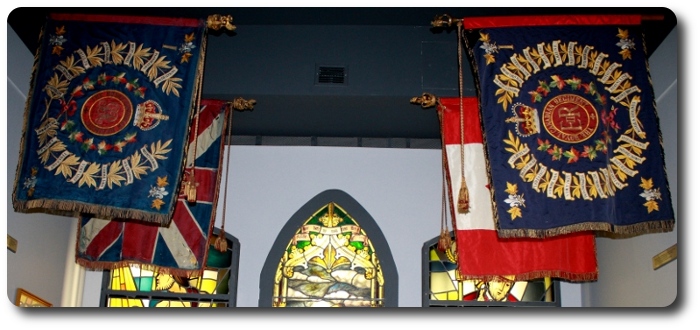 Battle Honours May Be Given Soon
The Ottawa Citizen; 10 June 1954
By The Canadian Press
The army said today it hopes that battle honors for the Second World War will be announced soon.
Battle honors, which are inscribed on regimental colors, are awarded by an international group at the British war office on which Canada is represented.
A lot of research is required. Records of various operations and battles have to be studied in detail, classified, and named. Much history work has to be done before deciding what units are entitled to battle honors. It was 1929 before First World War battle honors were awarded.
Canada's regular infantry regiments are already rich in battle honors. On their colors are inscribed such names as "Northwest Canada, 1885," "Paardeberg," "Vimy, 1917," "Passchendaele," "Pursuit to Mons," "France and Flanders, 1915-1918."
Some of the new crop of battle honors may include names like Dieppe, Ortona, Melfa River, Caen, Boulogne and The Scheldt.
Restricted Honor
Only infantry and cavalry carry colors, cavalry now being armored units. Thus only these two arms can carry battle honors denoting participation in notable engagements. Other arms claim nonchalantly that they took part in every battle.
The first battle honor was granted in 1768 to the 15th British Hussars for an action at Emsdorff in 1760. But the earliest battle commemorated by an honor is "Guinegatte, 1513" though it was not awarded until 1937—424 years later—to the Corps of Gentlemen-At-Arms, one of the sovereign's bodyguards.
The earliest battle honor awarded to a Canadian unit is "Eccles Hill," granted to the Victoria Rifles to commemorate an action against the Fenians on the Vermont border in 1870.
The Royal Newfoundland Regiment possesses some battle honors carried by no other Canadian unit, among them "Gallipoli."
One battalion of Canadian infantry, the 2nd Battalion, Princess Patricia's Canadian Light Infantry, has a unique distinction. Attached to the pike of its regimental color is a streamer representing the United States presidential citation granted to the unit in recognition of its heroic stand at Kapyong, Korea, in April, 1951.
Have Queen's Colors
Though the navy and air force do not have colors for individual ships or squadrons, they do possess Queen's colors. The navy received its color from King George VI in 1939. The RCAF was granted the Queen's (then King's) color and the color of the RCAF in 1950 in a ceremony on Parliament Hill. The senior and junior services, however, do not receive battle honours.
Some police forces also carry colors. A notable case is the RCMP, presented a guidon at Regina in 1935 by Lord Bessborough, then governor-general. The guidon, carried on a lance, bears four campaign honours, "Northwest Canada, 1885," "South Africa, 1900-02," "France and Flanders, 1918," and "Siberia, 1918-19"
Originally, the main purpose of colors was to provide a rallying point for a unit on the battlefield. They were last carried into action in 1881 by the 2nd Battalion, Northamptonshire Regiment, at Laing's Nek in the Boer War.

Posted by regimentalrogue at 12:01 AM EST