Guns for New Fort at Halifax (1901)
Topic: Halifax

Guns for New Fort at Halifax
The Daily Telegraph, Quebec, 22 May 1901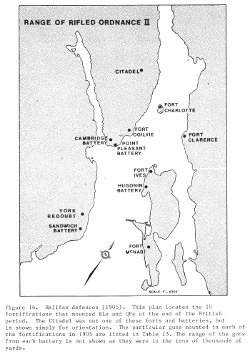 This map, from the Parks Canada History and Archaeology publication #46, Defending Halifax: Ordnance, 1825-1906 (Parks Canada, 1981), shows the locations of gun batteries surrounding Halifax Harbour in 1905.
Halifax, May 22.—Orders were received from England to-day to have Bellevue, the residence of the commander-in-chief of British North America, put in thorough repair with all possible speed. This is taken to indicate the appointment of a new commander-in-chief before the arrival in Canada of the Duke and Duchess of York. It has also developed to-day that the steamer Evangeline, now on her way from England, has a number of guns for the new fort, southwest of York Redoubt. They are two 9.2 and four 8-inch quick-firing guns.
York Redoubt is to have five new 9-inch and two 7-inch quick-firing guns.
The present strength of McNab's outside battery is two 6-inch breach-loaders and one ten-inch, all quick-firing guns. These will be augmented by two more 7-inch guns.
Fort Cambridge will be supplied with two new 6-inch and four 4.7-inch quick-firing guns, whiles Ives Point Battery will get two 9-inch and two 9.2. Some of these are expected by the Evangeline.
Fort Ogilvie's two 6-inch quick-firing guns will be augmented by two more of the same calibre. The casemate battery on McNab's Island will be reconstructed, and three guns now there will be condemned and replaced by quick-firing ones.
It is intended to extend the military wharves on the island in order to get a sufficient depth of water to allow ocean steamers to land armament, etc., there. Fort Clarence is being extended, and a number of men on it will be kept busy there for some time to come. The old guns will be replaced by quick-firing ones.
It is stated that in the defence improvements contemplated, Great Britain is only keeping on her old policy of keeping pace in fortress improvements with those in the fleets of the different nations. Up to within a few years the Halifax forts were thought to be able, with the assistance of the British ships on the station, to cope with the fleet which any attacking nation might send, but there have been great changes and improvements in fighting ships in recent years, and it is to keep pace with these improvements that the six years' work laid out is intended.

Posted by regimentalrogue at 12:01 AM EST