Canadian Army Rates of Pay; 1942
Topic: Pay; the Queen's shilling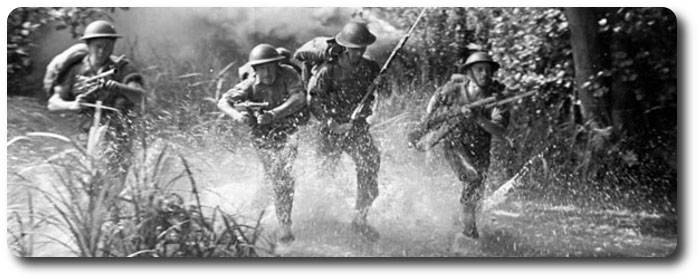 Unidentified Canadian infantrymen negotiating an assault training course, England, August 1942. Photographer: Alexander Mackenzie Stirton. Mikan Number: 3205243. From the Library and Archives Canada virtual exhibition Faces of War.
Canadian Army Rates of Pay; 1942
Canadian Army, Training Pamphlet No. 1
A General Instructional Background for the Young Soldier; 1942
Pay of the Warrant Officers, Non-Commissioned Officers and Men of the Canadian Army (Active)
Financial Regulations and Instructions
Regimental Rates of Pay
The following daily rates of pay are authorized for warrant officers, non-commissioned officers and men.
Warrant Officers, Class I
Conductor
$4.20
Master Gunner, 1st Class
Staff-Sergeant-Major, 1st Class
Regimental Sergeant-Major
Garrison or Camp Sergeant-Major
Foreman of Works
Sergeant-Major
Foreman of Signals
Clerk Signals
Draughtsman, Signals
Accountant, Signals
Mechanist
Engineer, Accountant
Topographical Surveyor
Lithographic
Engineer Draughtsman
Armament
Armourer
All other Warrant Offiers, Class I
$3.90
Warrant Officers, Class II, N.C.Os. And Men
Master Gunner, 3rd Class
$3.10
Regimental quartermaster-sergeant
Staff quartermaster-sergeant
Quartermaster-sergeant
Squadron, battery or company sergeant-major
$3.00
Warrant Officer, Class III
$2.75
Squadron, battery or company quartermaster-sergeant
$2.50
Staff sergeant
Sergeant
$2.20
Lance sergeant
$1.90
Corporal or bombadier
$1.70
Lance-corporal or lance-bombadier
$1.50
Private (over 18 years of age)
$1.30
Boy
$0.70
A warrant officers, non-commissioned officer or man performing the duties of a higher rank or appointment may be granted the acting rank and the rate of pay and allowances for such rank or appointment in the following circumstances only:
(a) Providing he is covering off a vacancy in an authorized establishment;
(b) Where there is adequate reason for filling the vacancy; and
(c) When the candidate is qualified for the rank in question.
W.Os., N.C.Os. and men holding acting rank will revert to their permanent rank on ceasing to perform the duties for which such acting rank was granted. Particulars will be published in Part II Orders of unit concerned.
Tradesmen's Rates of Pay
In addition to regimental races of pay, soldiers who qualify as Army tradesmen and who fulfill the necessary requirements, may become eligible to receive tradesmen's rates of pay in one of three classes. The rates are 75 cents, 50 cents and 25 cents per diem, and are issuable according to the trade and the qualification obtained by the soldier concerned.
To qualify for tradesmen's rates of pay, a soldier must fulfill the following conditions:
(a) Pass the appropriate Army trade test.
(b) Be covering off a vacancy in the appropriate rank and trade in the War Establishment of his unit, except when held as an unposted reinforcement within the authorized quota.
(c) Has completed the basic training for his Arm of the Service.

Posted by regimentalrogue at 12:01 AM EDT