Armed Forces Centennial Programme
Topic: Martial Music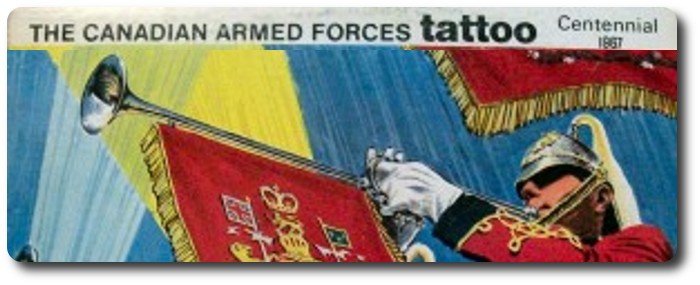 Armed Forces Centennial Programme
The News and Eastern Townships Advocate, 25 May 1967
Musically speaking, armed forces musicians will be working to beat the band during centennial year.
The 790 musicians who make up the 17 navy, army and air force bands have a heavy schedule — already under way — which involves performances from coast to coast in Canada and from Washington, D.C., to Whitehorse, Y.T., in the north. In all they will give more than 750 separate performances during the year.
Apart from the more than 400 musical concerts slated for Canadian and American cities, there 151 separate performances of the Canadian Armed Forces Tattoo to be played for in 46 cities and towns across the nation, in which each of the bands will play at least one engagement.
At EXPO 67 the bands will provide musical concerts throughout EXPO's six-month run. The Pan-American Games at Winnipeg will feature the music of the RCAF's Training Command Band Winnipeg, during its two-week engagement in July and August.
Apart from guard mounting duties in Parliament Hill and musical concerts in other cities, the Canadian Guards ceremonial band will play during 100 guards of honor for heads of state and foreign dignitaries visiting Ottawa this summer.
The Tattoo's main musical theme is an original composition by Capt. R.E.J. Milne, director of music for centennial projects, entitled "Marche Vanier." The title was suggested by Mrs. Milne as a tribute to the late Governor General. All royalties from sales of the march music will go from one army to another — the Salvation Army —at Mrs. Vanier's request.
The Tattoo has made two bandsmen 100 centennial dollars richer. Petty Officer Ronald McAnaspie of HMCS Stadacona Band and Pte F.T. Bryant of the 1st Battalion, The Black Watch, (Royal Highland Regiment) of Canada, each wrote an original march tune. PO McAnaspie's is entitled "A Century of Progress," and Pte Bryant's, written for the pipes and drums, is called "Maid of the Mist."
The entire musical score of the Tattoo, played by a selected group of armed forces musicians from each of the 17 bands, has been recorded through RCA Victor. On the Dominion label, the record will be sold at all Tattoo performances throughout the country as well as in retail record shops.
The Royal Canadian Navy bands participating in centennial ceremonies are The Stadacona Band from CFB Halifax, The Naden Band from CFB Esquimalt, and The Cornwallis Band from CFB Cornwallis, N.S.
Army bands include the Royal Canadian Horse Artillery, Royal Canadian Dragoons, Lord Strathcona's Horse (Royal Canadians), Royal Canadian Artillery, Royal Canadian Engineers, Royal Canadian Corps of Signals, The Canadian Guards, Royal Canadian Regiment, princess Patricia's Canadian Light Infantry, The Royal 22nd Regiment, The Black Watch, (Royal Highland Regiment) of Canada, and the Royal Canadian Ordnance Corps.
The Royal Canadian Air Force will be represented by the central Band from CFB Rockcliffe, Ont., and the Training Command Band.

Posted by regimentalrogue at 12:01 AM EDT