New Army Carrier (1958)
Topic: Militaria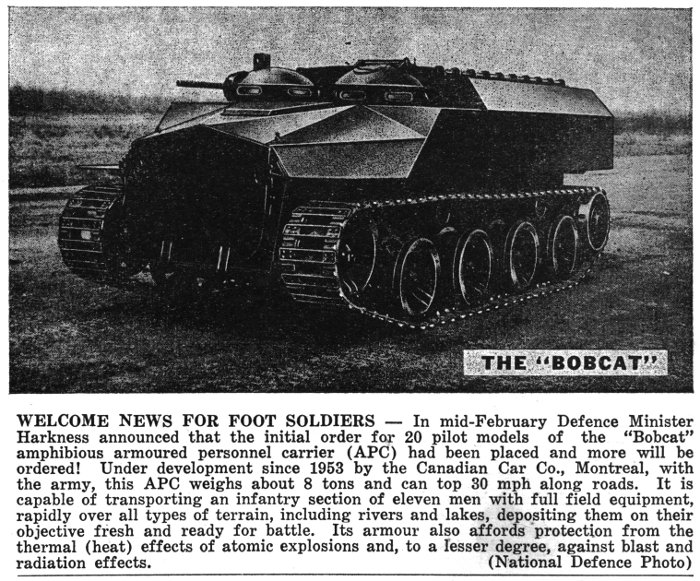 New Army Carrier
The News and Eastern Townships Advocate; 18 September 1958
Ottawa, Aug.—The development of an armoured personnel carrier for the Canadian Army was announced here today by army headquarters.
The new tracked vehicle is essentially a troop carrier although it has been designed with a chassis capable of being converted to several other roles, one of them being self-propelled artillery.
The first of three prototypes being built for the Army by Canadian Car in Montreal were delivered this month, and are now undergoing engineering trials at the Army's proving grounds near Ottawa. If the prototypes prove successful, pilot vehicles will be ordered and subjected to user trials by Army units at training centres across the country. This is the usual procedure of assessing new types of equipment.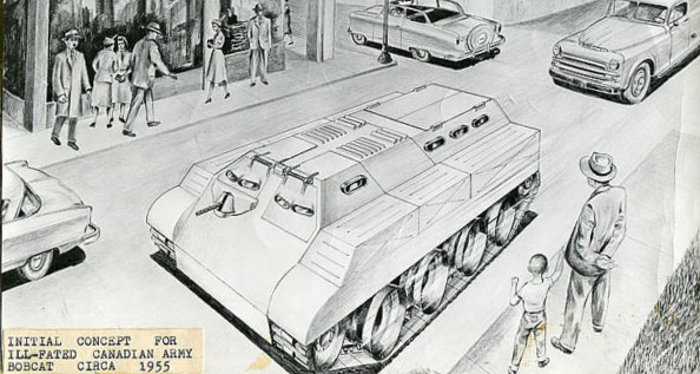 Speed and mobility are tow essential factors which will enable the modern soldier to exist on the atomic battlefield of any future war. The new vehicle is the outcome of considerable thought given to the development of a vehicle which would meet these requirements. The sides of the armoured personnel carrier, which are constructed on armour plate, will provide protection against the usual battlefield hazards of small arms fire and shell fragments. The armour will also afford complete protection from the thermal effects of atomic explosions and, in a lesser degree, against the blast and radiation effects.
Being amphibious the vehicle can rapidly transport its load of fighting men across all types of terrain and deposit them at their objective fresh and ready for battle. Eleven fully loaded soldiers can load onto the carrier in 10 seconds and on arrival at their new location can disembark in 8 seconds.
The unique track design of this Canadian developed vehicle in the result of many years experience with tracked vehicles by the Army in the Canadian North. For simplicity in construction many commercial parts have been used. The vehicle is powered with a modified commercial truck engine.
The chassis, being capable of conversion to various roles, will make the problem of supply much simpler by greatly reducing the variety of reserve stocks of vehicles and spare parts. It will also mean a saving in transport, maintenance and in the training of service personnel.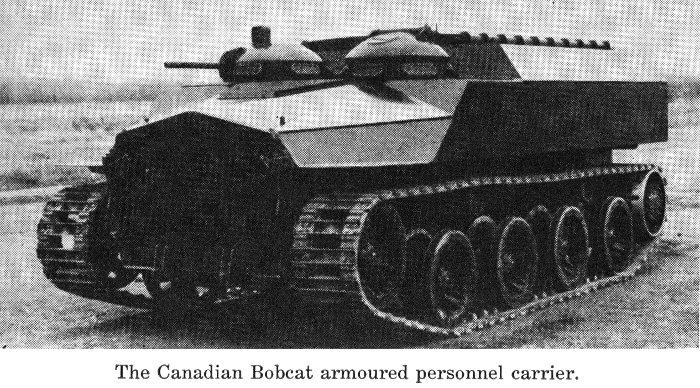 Posted by regimentalrogue at 12:01 AM EST
Updated: Sunday, 23 February 2014 6:51 PM EST