A New Canadian Tank School (1936)
Topic: Canadian Army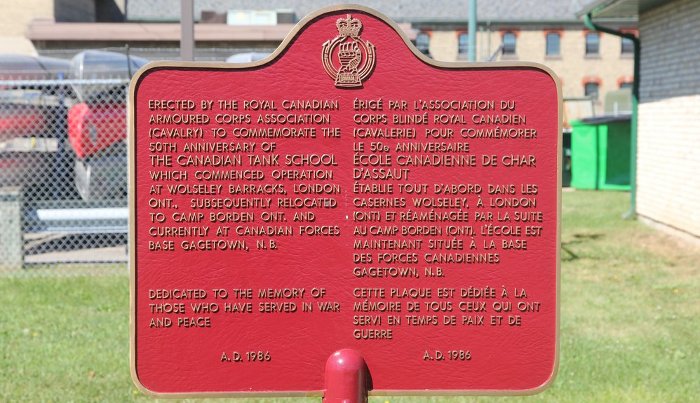 Sign at Wolseley Barracks commemorating the beginning of the Armoured School (erected 1986).
Tank School is Established
Is Canada's First
Training Will be held At London Barracks
The Windsor Daily Star, 16 Dec 1936
London, Ont., Dec 16.—Canada's first tank school opened at Wolseley Barracks here yesterday [15 Dec 1936].
Practically all officers and non-commissioned officers who are to constitute the staff of the army school arrived in the city and have taken up quarters at Wolseley Barracks.
Yesterday officers paid their official visit to district headquarters and Brigadier J.C. Stewart, officer commanding military district No. 1.
Major F.F. Worthington, M.C., M.M., of the Princess Patricia's Canadian Light Infantry, chief instructor to the new school, will arrive within a day or so.
The staff will be occupied with the work of organizing the school, preparing themselves as instructors for the next few months.
After organization has been set up, prepared candidates from the non-permanent active militia, especially the newly authorized Essex Regiment (Tank) and other tank units, will be permitted to attend.
Posted by regimentalrogue at 12:01 AM EST