Defending Halifax: The Point Pleasant Batteries
Topic: Halifax

Prince of Wales Tower. For a sense of scale, note the starway on the lft side of the tower.
Although Halifax, Nova Scotia, was never attacked or the defences of the Citadel tested, it is the outlying fortifications that both make that prospect even more challenging to prospective attacker and show the most likely approaches that would have been taken. The Citadel is a Vauban style star fort and would have been attacked in a set piece siege to approach and sufficiently destroy its battlements for an assault.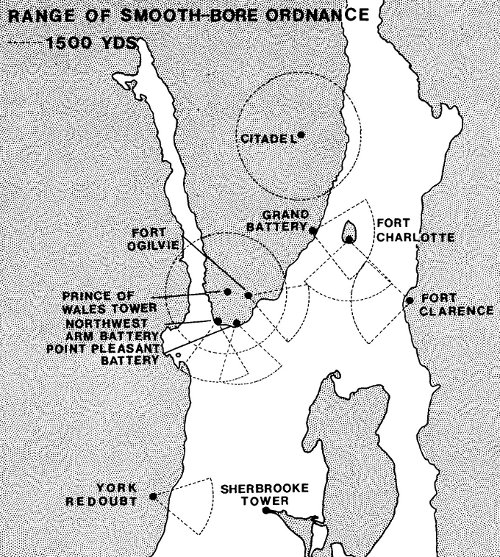 The likeliness of congestion in the main harbour from burning ships and damaged docksides, the steep approach through the town and being under the guns of the fortress make that approach an undesirable on for an attacker. The alternatives, therefore, would be landing on Point Pleasant, or from within the Northwest Arm, the latter offering a shorter distance to move one's siege artillery. While the guns of the Citadel, as late as the 1860s rearmament, could not directly cover these approaches and landing areas, the strength of the outlying batteries, particularly in Point Pleasant itself still made this course of action a daunting task.
The map at right shows the relative areas of effective coverage of smooth bore cannons in the Citadel and outlying batteries circa 1860s. The approach up the North West Arm to assault to Citadel from landward is an obvious course of action and shows the necessity of defending not only the southern end of the Halifax Peninsula but also blocking entry into the Arm. (this map and ordnance figures below are taken from "Defending Halifax: Ordnance, 1825-1906," Parks Canada #46, History and Archaeology, 1981.
As a result, other than the heaby armament of the Citadel itself, Point Pleasant became the most heavily defended locality in the Fortress system, with the following batteries established:
In 1861, mounted ordnance in the Point Pleasant batteries was as follows:
Point Pleasant Battery – 10 x 32-pounder cannon, 1 x 12-pounder
North West Arm Battery – 4 x 32-pounder cannon, 3 x 18-pounder
Fort Ogilvie – 6 x 32-pounder cannon
Prince of Wales Tower – 2 x 24-pounder cannon
Prince of Wales Tower, commonly known as the Martello Tower after its style of construction, was the central battery in Point Pleasant and as the coverage drawing above shows, provided supporting fire to each of the other batteries. This defence in depth ensured that Point Pleasant would be a hard fought set of defences, anchoring the Citadel's outer batteries and making any enemy lodgment on the Peninsula a hard won achievement. In varying states of decay, each of the Point Pleasant battery locations can still be explored by visitors to Point Pleasant Park.
Posted by regimentalrogue at 12:01 AM EDT