ENTAC Anti-Tank Guided Missile
Topic: Cold War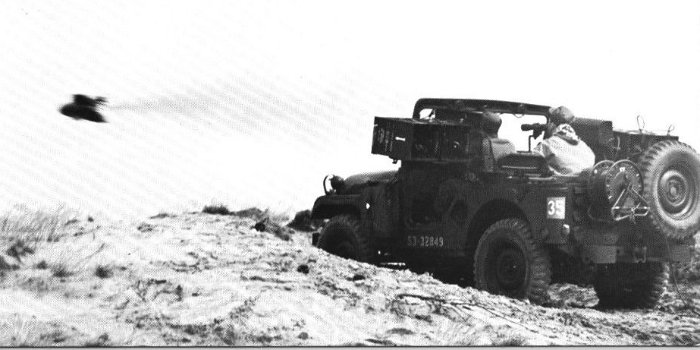 ENTAC Anti-Tank Guided Missile
Recruiters' Info Card
The ENTAC anti-tank guided missile (Engin Téléguidé Antichar) provides reconnaissance units ad infantry with a capacity of destroying enemy armour at ranges up to 2000 metres. It is a self-propelled roll stabilized, wire guided missile with solid propellant propulsion. The 27-pound Missile is guided to its target by a "pilot" using a "joystick."
Canada's early use of anti-tank guided missiles included the French designed and manufactured ENTAC. Developed in the 1950s, Canada placed an order in 1959, with delivery from 1960 to 1963 of approximately 2000 missiles.
The ENTAC missile system was deployed by Canada mounted on the Ferret Scout Car and the M38A1 Canadian Jeep. The ENTAC was deployed in combination with 106 mm recoilless rifles and SS11B anti-tank guided missiles.
Cutaway model – Smithsonian; National Air and Space Museum
Flight International, Nov 1962, article AntiTank
Posted by regimentalrogue at 12:01 AM EDT