Library and Archives Canada: Commonwealth War Graves Registers
Topic: LAC
Among the digital collections accessible on line at Library and Archives Canada are the Commonwealth War Graves Registers for First World War burials. These cards provide the compiled notes on battle field burials, recovery and move of remains to established Commonwealth War Graves Commission cemeteries, and any contact with families that occurred.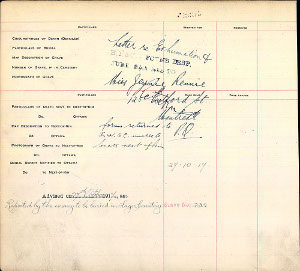 Click images to see the full size Grave Register (front and back) for 477783 Private William Henry Roberts,
The Royal Canadian Regiment.
Organized in 106 sets of image files with, in many cases over 1000 images per set, these cards can provide valuable information when researching a Canadian soldier of the First World War who died overseas. The cards are, however a challenge to search, requiring the researcher to identify the set with the desired surname, then to patiently move back and forth through the image stack until narrowing down to the desired record. See Researching Canadian Soldiers of the First World War: Part 5: casualties, for a table giving the first surname in each image set. Keep in mind that the alphabetization is not perfect in the image series, so some experimentation once you are in the right area may be required.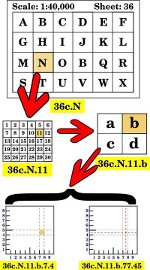 One of the challenges that cards present is that they provide location information based upon the military maps of the day, with a grid system that is no longer in use. It is possible, however, to decipher these grid reference, match them to available online battlefield maps, and then to match the terrain to Google maps for a modern perspective on the locations in question.
See Researching Canadian Soldiers of the First World War: Part 7, Deciphering Battlefield Location Information for a guide to translating the wartime grid references, finding the locations on battlefield maps from the war, and then Part 9: Matching Battlefield Locations to the Modern Map to match the details to Google maps.
When the Grave Registration card provides detailed information on burials, especially when they tell a tale of an immediate battlefield burial and later transfer to a cemetery, the information can help fill in gaps in a soldier's story, matching his unit's history and War Diary to better understand his last days or hours. Poignantly, it is those cards which relate a battlefield burial by comrades, but which end with the remains never being found on a shattered battlefield that leave that research trail tantalizingly without closure. In such cases, a name engraved on the Vimy Memorial or the Menin Gate become the last vestige of that soldier's service and death.

Posted by regimentalrogue at 12:01 AM EDT