Veterans Death Cards (First World War)
Topic: LAC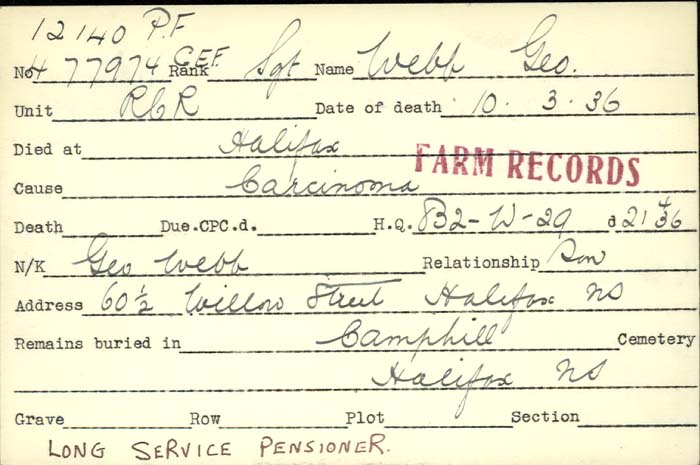 Above is shown the Veteran's Death Card of Sergeant George Webb. A long service soldier and First World War veteran of The Royal Canadian Regiment, George returned to halifax after the War. He continued serving in the Regiment until 1926, when he retired to pension.
Library and Archives Canada (LAC) continues to add digital collections to its on-line resources. With the approached centennial of the First World War, and the likely surge in genealogical interest surrounding soldiers of that conflict, it is good to see the new work being done by LAC to make resources available and accessible. Where requests for file copies can take weeks, or months, to get through their work flow for production of photocopies, any efforts they make to digitize and share new material both reduces their workload for simpler request and increases the immediacy of information available to researchers.
Among the newest resources now available are the "Veterans Death Cards" for First World War Soldiers. While casualties of the War were recorded in detail and the information has been available through the Canadian Virtual War Memorial and the Commonwealth War Graves Commission, it has always been more difficult to determine when, where and how a soldier who survived the war later died. This information an often be a key starting point to work through rebuilding the story of his post war life.
The Veterans Death Cards provide that start point. With varying amounts of information, they can provide the location, date and cause of a veteran's death, offering one more point of contact to available information in the research of individual soldiers.

Posted by regimentalrogue at 12:01 AM EDT