Dieppe DCM Wins Medal in Africa
Topic: Medals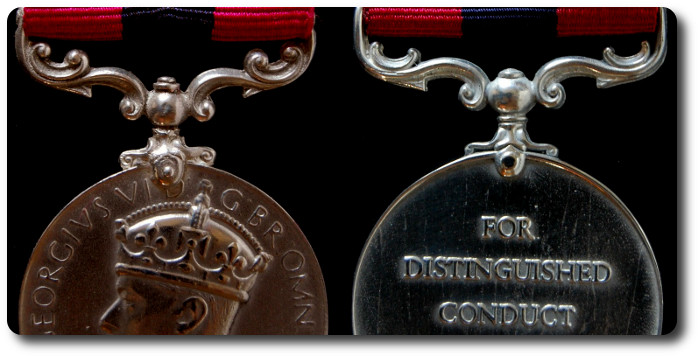 Dieppe DCM Wins Medal in Africa
Sgt Hickson, Kitchener, First Canadian to Get Two Battle Awards if War
The Montreal Gazette, 9 July 1943
Ottawa, July 8—(CP)—Defence Minister Ralston today announced award of Military Cross to Capt. William Harold Victor Matthews of Milne's Landing, B.C., and the Military medal to Sgt. George Hickson, D.C.M., of Kitchener, Ont., for "Gallant and distinguished service in North Africa.
Hickson, who won the Distinguished Conduct Medal at Dieppe, thus became the first Canadian soldier to win two battle decorations in this war.
Citations covering the North African awards were not made public in today's Army statement. Capt. Matthews and Sgt. Hickson were among the small number of Canadians attached to various British units in North Africa for battle training.
Capt. Matthews, 28, is a member of the Canadian Infantry Corps, and enlisted in a Scottish regiment from British Columbia. He was promoted captain last September 1. His wife, Mrs. Shiela Maxwell Matthews, lives at Milne's Landing, on Vancouver Island.
Sgt. Hickson, also 28, won the D.C.M. at Dieppe when his platoon commander and senior non-commissioned officers became casualties and he led the platoon against strongly-held enemy positions.
Under his direction an enemy gun crew was wiped out, and a six-inch naval gun and two machine guns destroyed before he ordered his party to withdraw. His own personal fighting ability won special attention when accounts of his exploits reached headquarters.
A hydro-electric lineman at Kitchener in civil life, he enlisted with a field company of engineers at London, Ont., in January, 1940. Before the wart he was a corporal in the Scots Fusiliers of Canada, in the Reserve Army. His wife lives at Kitchener.

Award Citations
Award citations for Canadian service members of the Second World War can be found at the website of the Directorate of History and Heritage of the Canadian Armed Forces — Canadian Army Overseas Honours and Awards (1939-45).
For those researching awards, an excellent further resource is the "Courage & Service; Second World War Awards to Canadians" CD compiled by John Blatherwick and Hugh Halliday, from Service Publications. The following citations are extracted from "Courage & Service":
Hickson — Distinguished Conduct Medal (Dieppe, 1942)
HICKSON, George Alfred, Lance-Sergeant (A.19407) - Distinguished Conduct Medal - Engineers (7 Field Company) - awarded as per Canada Gazette dated 10 October 1942; confirmed by CARO/3580 dated 2 September 1943, "in recognition of gallant and distinguished services in the combined attack on Dieppe". Hydro lineman; enlisted in London, Ontario, 9 January 1940; had served in Scots Fusiliers of Canada since 1932.
Lance-Sergeant Hickson was in charge of a group charged with destroying the main telephone exchange in the Post Office. Finding the fire on the beach too heavy to move directly to his target, he assisted an infantry platoon in mopping up enemy machine gun positions and destroyed a three-inch gun by detonating a three-pound charge on the breech. When the Platoon Commander and most of the senior Non-Commissioned Officers were put out of action, Hickson assumed command and led the platoon to the Casino where strong enemy opposition was nullified. Using explosive he blew his way through the walls to reach a large concrete gun emplacement. Then another charge blew in the steel door killing a gun crew of five. He then destroyed the six-inch naval gun and two machine guns after infantry had cleared the post. Lance-Sergeant Hickson then reorganized his platoon and despite heavy enemy opposition led them into the town as far as the St.Remy church. Unable to find Brigade Headquarters and being without support, he withdrew his party to the Casino. Lance-Sergeant Hickson throughout the day showed determined leadership and high qualities of initiative and was among the last group to evacuate.
Hickson — Military Medal (North Africa, 1943)
HICKSON, George Alfred, Sergeant (A.19407), DCM - Military Medal - awarded as per Canada Gazette dated 10 July 1943 and confirmed by CARO/3580 dated 2 September 1943, "for gallant and distinguished services in North Africa."
On the 8 April 1943 during an attack on Recce Ridge in the area of Medjez el Bab a squadron of infantry tanks was held up owing to the presence of an enemy mine field. Sergeant Hickson promptly organized a detachment of Royal Engineers to clear a gap so that the tanks could advance. Although the section of the mine field was under constant shell and mortar fire this Non-Commissioned Officer moved freely and by his personal example and encouragement to his men was responsible for the clearing of a gap 40 yards wide by lifting over 100 mines in under an hour. It was undoubtedly due to the coolness and efficiency of this Non-Commissioned Officer that the task was completed and the tanks enabled to pass through the minefield and assist the infantry in the capture of the final objective.
Matthews — Military Cross (North Africa, 1943)
MATTHEWS, William Harold Victor, Captain - Military Cross - Infantry (Canadian Scottish Regiment attached British Army) - awarded as per Canada Gazette dated 10 July 1943 and confirmed by CARO/3580 dated 2 September 1943, "for gallant and distinguished services in North Africa." Original citation on H.Q.S. 54-27-94-20, Folio 8. His medals are on display in the Canadian Scottish Regiment in Victoria and include: Military Cross and Bar, Serving Brother Order of St. John, 1939-1945 Star, Africa Star, Italy Star, France and Germany Star, Defence Medal, Canadian Volunteer Service Medal and Clasp, 1939-1945 War Medal, United Nations Korea Medal, EIIR Coronation Medal, Centennial Medal, Efficiency Medal and the CD (EIIR).
Captain Matthews has shown a splendid example of leadership and courage while he has been with his battalion. In his patrol work at Hunts Gap he was outstanding and in the battle of Bou Arada on the 22 April he was the only officer left in his company. Under extremely heavy fire he collected them together and with the remains of the other companies consolidated his position on the second objective when a counter attack seemed imminent. All the time the enemy shelled his position but he remained calm and collected and set an example to all.
Matthews — Bar to the Military Cross (Normandy, 1944)
MATTHEWS, William Harold Victor, Captain - Bar to Military Cross - Infantry (Canadian Scottish Regiment) - awarded as per Canada Gazette dated 19 August 1944 and CARO/4819 dated 26 August 1944. Initiated by Lieutenant-Colonel F.N. Cabeldu, Commanding Officer, 1 Canadian Scottish Regiment; approved by 7 Canadian Infantry Brigade on 16 June 1944; endorsed by Major-General R.F.L. Keller, General Officer Commanding, 3 Canadian Division on 21 June 1944 and passed forward on 22 June 1944; supported by Lieutenant-General J.T. Crocker, Commander 1 British Corps on 25 June 1944 and passed forward on 11 July 1944; approved by General H.D.G. Crerar, General Officer Commanding-in-Chief, First Canadian Army; approved by Field Marshal B.L. Montgomery, Commander-in-Chief, 21 Army Group.
On 6 June 1944, throughout the assault landing and the advance into the hinterland, Captain Matthews' conduct was an inspiring example to the men of his company. On two occasions when the advance was held up, he led parties of men to clean up centres of resistance, on both occasions under intense machine gun and mortar fire.
On the morning of 8 June 1944, a platoon of the company became pinned down by heavy machine gun fire. With utter disregard to his own safety, Captain Matthews went forward to liaise with Sherman and Honey tanks to procure assistance. Unable to gain the tank commanders attention, he walked around to the front of the firing tanks in full view and under fire of the enemy's guns and pointed out the position to be fired upon.
During the attack on the Royal Winnipeg Rifles position at Putot-en-Basson on 8 June 1944, he was always forward urging and directing until on the final objective he was rendered unconscious by blast.
On regaining consciousness he carried on with his work. His advice, coolness, disregard for personal safety and inspiring leadership saved the situation on many occasions, won praise from all ranks, and were a deciding factor throughout the assault.

Posted by regimentalrogue at 12:01 AM EDT