30 Tons of World War Trophies
Topic: Militaria

30 Tons of World War Trophies Turned Into Arms for Dominion
The Montreal Gazette, 31 January 1941
Ottawa, January 30.—German rifles, shell cases, trench mortars and other pieces of equipment of the Great War are being thrown in the melting pot whence come Canadian arms and ammunition to fight new German aggression.
Dr. Gustave Lanctot, Dominion archivist and chairman of the Military Museum Board told The Canadian press tonight that 30 tons of German equipment taken in the last war had been sold for scrap at Ottawa and—he hoped—would soon be on its way to Germany in the form of shells, bombs or bullets.
Dr. Lanctot explained the equipment was surplus stock not required by the Canadian war museum. It has some value as metal.
The museum's idea of thus disposing of German war equipment it does not need, has its counterpart in several cities and villages in Canada which have written asking how they can turn in the German guns loaned them to exhibit as trophies of the last war.
Before these trophies could be sold or given away permission of the Dominion had to be obtained, because the arms were only loaned to cities and municipalities for display.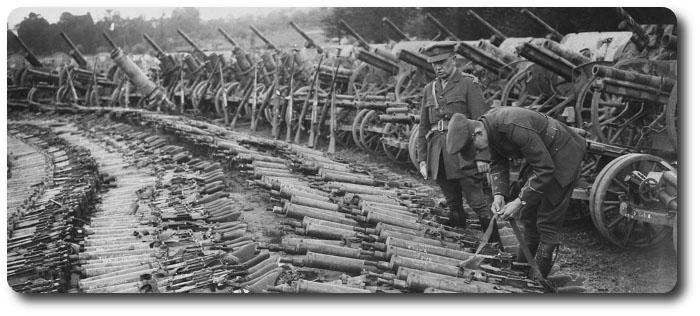 "If some municipality writes us and says that they have been offered a good local price for a trophy, the chances are that we will permit them to sell it and turn the money over to the Government," said Dr. Lanctot.
"But the cost of transporting a two or three-ton gun is high and the need of scrap metal is not so pressing that it is economical to ship trophies for great distances for melting down."
No action has been taken to encourage municipalities to turn in the German trophies loaned the, although the Military Museum Board has made inquiries to see what demand there is for such scrap metal. Munitions manufacturing forms have informed the board they need to know the composition of the metal in the gun, whether it is suitable for their furnaces and whether the laid-down price at their factories will compare with the market price for metal.
Because the trophies have been loaned, an annual report on their condition is required by the Dominion. Latest reports showed some of the guns were in good repair, having been cleaned and painted. Others had deteriorated badly. Some reports bore the notation, "wheels missing."
The trophies were distributed after the war on the basis of enlistments by provinces. Guns placed on display numbered 592, and machine gins 2,111. They are scattered across Canada, most of them at the points where they were first placed. A few have been exchanged by municipalities which no longer wanted them and presented to other communities where a trophy had been requested.
If ever an urgent need for scrap metal arises, the Dominion has the power to call back all trophies on loan.

Posted by regimentalrogue at 12:01 AM EST