British-Canadian Recruiting in Spokane (Part 3)
Topic: CEF

Fighting Is Not Only Game in Front Line Trenches, Mitchell Says
Lieutenant J.H. Mitchell
Officer in Charge British-Canadian Recruiting Office in Spokane
Spokane Daily Chronicle, 24 November 1917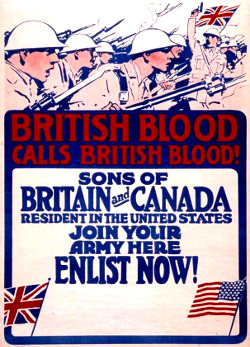 Richard Holt (2015) British Blood Calls British Blood The British-Canadian Recruiting Mission of 1917-1918, Canadian Military History: Vol. 22: Iss. 1, Article 4.
The time spent by troops in the front line trenches is not entirely occupied by fighting. By far the larger part of it is spent in hard, dirty work, or tiring and straining periods of sentry duty. Major John Beith, better known as Ian Hay, says in his well-known book "The First Hundred Thousand," that "trench life consists of long periods of intense monotony punctuated by short periods of intense fright."
The trenches vary according to locality—in Flanders the ground is moist and the trenches consist mainly of parapets of sandbags of earth thrown above the ground level, while in France the ground is hard and in some places chalky and permits elaborate and well-protected trenches to be dug.
An ideal front line trench should consist of first a firing trench nearest the enemy, well protected by broad belts of wire entanglements and a short distance behind this should be a support trench, in which the men spend most of their time—eat and sleep. The firing and support trenches are connected by communication trenches and these also lead back to other positions in the rear. During an offensive such as the British army is now carrying on, it is impossible to construct well defined trench systems and the infantry are forced to live in large shell craters which they connect up with each other by short lengths of hastily dug trench.
During an ordinary tour in the front line trenches , that is, when no offensive or attack is taking place, most of the work is done at night. During that period portions of the trench which have fallen into disrepair or which have been damaged by enemy shell fire are repaired and new trenches and saps are dug. At night also fresh wire entanglements are built in front of the trenches, this last being a rather nerve-racking job. Men are forced to work entirely in the open, throwing themselves flat or standing motionless when a flare goes up from the opposing lines. Patrols push out into No Man's Land sometimes for the purpose of obtaining information as to the strength of the enemy's trench and the state of his defenses, and other times for the purpose of combating hostile patrols.
The American troops during their stay in the trenches have shown that they are very apt pupils at this style of warfare and there is no way in which they could have given the Germans a better idea of their superiority than by the patrol work that they have done. The Germans soon learn that they have very well trained troops opposed to them and it is very imprudent to venture into No Man's Land, and the fact that they do not know what is going on in front of them tends to make them apprehensive and nervous.
Machine gunners are active on both sides at intervals during the night—their favourite targets being working and wiring parties and parties bringing up rations to the front line. A considerable amount of indirect machine gun firing is done at night. Indirect firing is done when the target is not in view or in direct line with the gun. It is carried out by ranges obtained from maps. The gun is elevated to its extreme elevation and the bullets descend practically vertically on the target.
Just before dawn all tasks are completed and as daylight begins to break troops "stand to" to repulse any possible attack and to insure that each man is in his proper position. As soon as it is light enough to clearly see the enemy's lines, the sentries occupy the positions which they are to hold during the day time and the remainder of the men get their breakfast. This is usually one of the most quiet periods of the day, but immediately after breakfast the opposing artillerymen and trench mortarists take up their daily duty of annoying the enemy's infantry.

Posted by regimentalrogue at 12:01 AM EDT