Victoria Cross (1903)

Victoria Cross
The Pittsburgh Press, 26 July 1903
(From the St. James Gazette)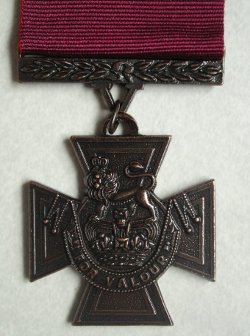 January 29th is the anniversary of the institution of the soldiers most precious decoration—perhaps the most precious decoration in the world—the Victoria Cross, for it was instituted by Her Majesty, the late Queen Victoria, on the 26th day of January, 1856, and so is not quite 50 years old. While it is the most prized of all the decorations and orders an Englishman can win, it is also the most democratic decoration in the world, although it is the official badge of an actual personal courage and daring, it has no concern with rank, long service or wounds, and it may be worn by one who has been only a few months, or even weeks, in the army, while other who have spent their lives in the service and gained rank and other decorations may not possess it.
It may be worn by a private soldier or a field marshal, and on the roll of the heroes' names are to be found almost every rank in both the services, for the winning of the cross is possible to any one, as it was granted "as a reward for conspicuous bravery or devotion to the country in the presence of the enemy,' or as the inscription upon it records, "For Valour.'
The Victoria Cross had its birth during the Crimean war, when Queen Victoria felt that some recognition of the personal daring and heroism of her soldiers in that terrible struggle was needed. The royal warrant clearly lays down the conditions under which the cross may be won, but the whole of them may be summarized in one sentence. `For conspicuous bravery or devotion to the country in the presence of the enemy.`
There are not many who are unfamiliar with the appearance of the cross, but for the benefit of those who have only seen it in photographs or pictures it may be said that it is about an inch and a half wide and has in the obverse center, a crowned lion, underneath which is an scroll bearing the words, "For Valour.' It is attached to a bar on which is a spray of laurel leaves and is suspended by a broad ribbon, which is blue for the naval service and dark red for the military. Both the cross and the bar are made from bronze which formerly formed part of some of the Russian guns captured during the Crimean was and complete with the ribbon and pin weighs just under an ounce, or 342 grains, to be exact. It is engraved with the name and regiment of the recipient, as well as the date on which he won it, and as soon as this is done it is dispatched from the makers to the sovereign to bestow upon the hero.

Posted by regimentalrogue at 12:01 AM EST