England's Most Coveted War Medal
Topic: Medals

England's Most Coveted War Medal—the Victoria Cross (1918)
The Spokesman-Review, Spokane, Washington, 4 February 1918
(Via Scribner's)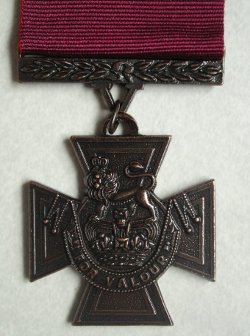 The Victoria Cross, one of the most coveted of military decorations, and the most rarely conferred, was instituted during the Crimean war, and is made from the bronze of captured cannon. It is not a Maltese cross, but a cross pattee, its obverse center bearing the royal crest of a lion passant, gardant, upon the British crown, above a ribbon inscribed "For Valour." On the reverse if a circular space reserved for record of the act that gained the decoration. The name and rank of the recipient are on the bar above. The ribbon is red for the army and blue for the navy.
The cross was instituted in 1856, but its award was made retroactive, so that it happened that the first Victoria Cross was awarded for an act of valor on June 21, 1854. The recipient was "Mr. Lucas," then mate on board H.M.S. Hecla. A live shell fell on the deck of the Hecla and, without an instant's hesitation, Mr. Lucas picked it up and threw it overboard.
The Victoria Cross is a dignified piece of sculpture, dominated by a lion worthy of Barye. Its possession, like those of most of the British crosses, confers a sort of military "degree," in certain cases, permitting the wearer to write V.C. after his name. Moreover, the cross carries with it an annuity of £10, which, in case of extreme want, may be increased to £50. Every recipient of a Victoria Cross is the ward of a grateful nation.

Posted by regimentalrogue at 12:01 AM EST