Victoria Cross in Pawn (1907)
Topic: Medals

Victoria Cross in Pawn (1907)
Hero Who Won It Found Dying Before It Is Sold
The Carp Review, Carp, Ontario, 3 January 1907
(From the London Mirror.)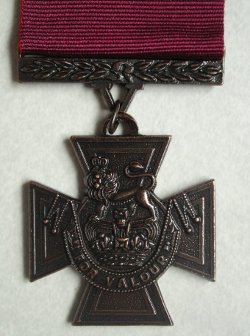 After a brief spell of fame it seems to be the predestined fate of the Victoria Cross hero to sink into a position so reduced that it is impossible to find his whereabouts.
Many are the romances, which rate has woven around men who, after a daring feat of arms, have been rewarded by a grateful sovereign with the proudest possession of a soldier. But none of them is more pathetic than that of a distinguished officer whose Victoria Cross was to have been sold next week in a London auction room.
Fifty years ago he performed such feats of heroism in the Crimea that he received a nation's praise and a grateful Queen pinned on his breast the bronze cross that is worth so little and yet is worth so much.
Afterwards he rose to high rank in the army and retired. Ten years ago misfortune overtook him, and as a last resource he raised a few pounds by leaving his beloved cross in a pawn broker's frawer. Then he departed and nothing more was heard of him.
A Victoria Cross is never sold until after the death of the man to whom it has been awarded.
The auctioneers searched the Somerset house registers for days, but the gallant officer's name was not to be found. At last, three days ago, his death was presumed and the cross was advertised for sale. It was to have been sold nest week, but yesterday afternoon, quite by accident, the auctioneers heard that the officer was still alive, although seriously ill.
And so the cross will not be sold. Possibly a friend will recompense the pawn-broker to the extent of its value and send it along to the officer in order that he may see it again before he dies.

Posted by regimentalrogue at 12:01 AM EDT