Unruly American in CEF Wins Honors
Topic: CEF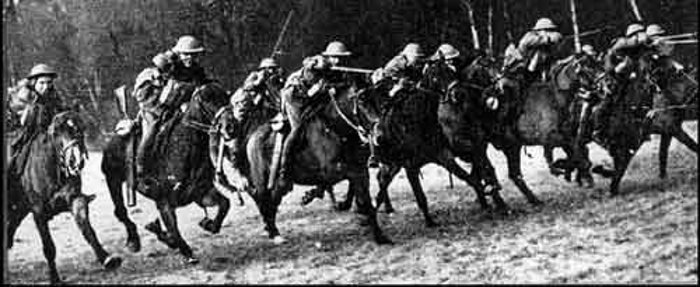 Unruly American Fighting in Canadian Forces Wins Honors
"Black Marks" Erased by Unusually Daring Feats in Battle
1220 Pte G.F. Clark, D.C.M.
Citation for the D.C.M.
(8th Cdn. Inf. Bn.) "For conspicuous gallantry; he brought in a wounded man, under heavy fire, from close in front of the enemy fire. In doing this he was shot through the cap, but immediately went out again, and with great bravery, succeeded in recovering a machine-gun, which had been abandoned close to the enemy lines."
Citation for Bar
(Can. Cav.) "For conspicuous gallantry in action. He showed great determination and gallantry on patrols. Later with a corporal, he captured an enemy officer and shot an enemy soldier. He displayed greay courage and initiative."
The Milwaukee Sentinel, 28 February, 1918
By Lowell Mellett; Correspondence to The Sentinel from the United Press
London—According to my authentic friend, Ray Hay of Sunnyside, Wash., there's nobody in all the armies quite like Nobby Clark of the Fort Garry Horse. Nobby comes from somewhere in the U.S.A., but enlisted in the Canadian cavalry at Winnipeg.
His activities on various French fronts have won him the D.C.M. with the bar, the Military Medal with bar, the Croix de Guerre, the Legion of Honour, and the Cross of St George, the last named from the Russian government. He'd undoubtedly have the Victoria Cross for which he has been recommended, were it not for his "crime" record. Nobby is unruly. The penalties he has had to pay for his blindness toward discipline make up a long list.
But the other day he managed to have one black remark completely erased. It seems ninety days' field punishment had been ordered for him and he had only undergone four days of his term. The officer commanding—to make this sound technical one should say O.C.—observing changes taking place in the German trenches opposite, expressed a desire to know who his new enemies were. Nobby overheard him express it.
"Beg pardon, sir," said Nobby; "will you trade those papers you've got against me for a German soldier?"
"Yes," said the O.C.
Nobby disappeared and presently reappeared.
"Beg pardon, sir, gimme the papers."
"First show me your German," said the O.C.
"I've got him stacked outside the trench," said Nobby, "and if you don't give me the papers, I'll take him back."


1220 Private George Frederick Clark
8th Canadian Infantry Battalion, and Canadian Cavalry
Library and Archives Canada
Soldiers of the First World War
Honours and Awards
A check of "Canadian Army; Honours–Decorations–Medals; 1902-1968," by Commander John Blatherwick (1993), identifies the following likely candidate for Nobby Clark:
DCM and Bar: Clark, G.F., Private, Cdn Cav
Clark's service record also notes the receipt of the Croix de Guerre, but there's no inditation he received the Military Medal, the Legion of Honour, or the Cross of St George.
"Black Marks"
Clark's service record does show that he was not the most disciplined soldier in the Canadian Expeditionary Force. It should be noted that although the maximum term of punishment for Field Punishment No. 1 was, in fact, 90 days, this could only be awarded by Court Martial. A unit commanding officer was only permitted to sentence a guilty man to a maximum of 28 days Field Punishment.
"Nobby" Clark can be found in the Library and Archives Canada database of Courts Martial of the First World War, having been charged and tried for the following offence:
Name: Clarke, George Frederick
Date: 1916/05/16-1918/09/21
Rank: Private
Regimental number: 1220
Unit: 1st Canadian Divisional Mounted Troops
Date: 1916/05/16-1918/09/21
Offence: AA Section 8, 40, 41
Remarks: Threatening a superior officer / Conduct to prejudice of good order and military discipline / Murder Reference: RG150 - Ministry of the Overseas Military Forces of Canada, Series 8, File 649-C-5438, Microfilm Reel Number T-8653, Finding Aid Number 150-5
The related note in Clark's file reads as follows:—
"In confinement awating trial 13 May 1916. Tried and convicted by Field General Court Martial of (1) When on Active Service using threatening language to his Superior Officer, (2) Conduct to the Prejudice of Good Order and Military Discipline in that he said to Sergt. C.A. Martin "This is where I do 14 or 28 days or anything at all for you, will you take your licking now or after Stables<" and sentenced to 56 days Field Punishment No. 1, 16 May 1916. Confirmed by Lt. Col. Godson Godson, Camp Commandant, Canadian Corps, 1 June 1916.

Posted by regimentalrogue at 12:01 AM EDT