Tommy Well Fed in the Field
Topic: Army Rations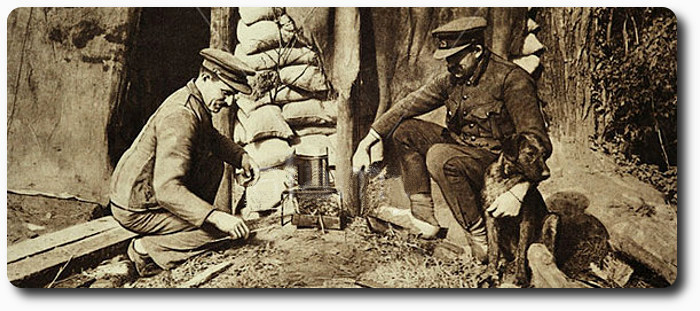 Tommy Well Fed in the Field
Army Rations Displayed for Inspection at the Front
The Spokesman-Review, Spokane, Washington, 4 April 1915
(Correspondence of Associated Press)
British General Headquarters in France, March 23.—A picture that will linger in the memory of the newspapermen who visited the front as guests of the British staff, was the sight of the army rations, in all their variety or lack of variety, laid out for inspection on a hotel table, and looking not unlike a study of the contents of a larder of a Dutch painter.
There was beef and mutton, a pound of each (the fresh meat ration is one pound). There were large tins of pressed beef which vary the fresh meat or are taken when fresh meat can not be got. There was a two-pound loaf of excellent bread and the alternative ration of biscuit. The biscuits, according to the soldiers, are a vast improvement on the South African war biscuit. There are fresh vegetables, including onions; there was tea, sugar and jam, of which the English soldier in inordinately fond, and by way of luxuries 50 cigarettes and two ounces of tobacco. This quantity of cigarettes and tobacco is served out weekly.
There is besides a ration of super-excellent bacon, cheese, butter, where possible, and a bottle of army rum. The rum ration is two ounces daily, a rather large wine glassful. Apart from the daily issue of rations, every man carries his "iron" or emergency ration, of beef and biscuit, which he must not touch till he has been 24 hours without food.

Posted by regimentalrogue at 12:01 AM EDT