Sam Hughes Gets Schooled
Topic: Canadian Militia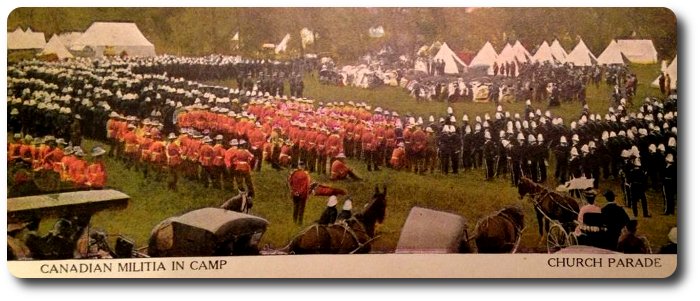 Sam Hughes Gets Schooled
"My own idea is that the Militia Force of Canada is like one of those big-hatted, hobble-skirted girls one sees walking along the sidewalks—all feathers and top."
From archived Governor General's office documents held by Library and Archives Canada comes this critical observation by Sir Sam Hughes after visiting the Militia Camps in 1912. Following is the reply from the Chief of the General Staff.
July 9, 1912
Memorandum
To:—The Chief of the General Staff
Department of Militia and Defence
It is my desire to consider thoroughly the whole question of the training of the militia.
As judged by their actions, there is scarcely a trained Officer in the Force, scarcely an Officer that has the master spirit developed; even the subordinate Officers seem to lack initiative.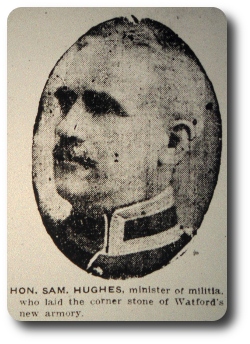 It is my wish to greatly extend the provisional Schools of Instruction, and the Sergeant Instructors for Battalion Headquarters, and the sooner we get together and get out plans all considered, the more it will be to the benefit of the Force.
In nearly every Camp visited, there seemed to be an absence of the master mind in Divisions, in Brigades, in Regiments and in Companies.
Colonel Smart was, by all odds, the best Camp Commandant I met. There were a number of good Brigade Commanders, a few Regimental Commanders and not very many Company Commanders. The men were splendid, all they wanted was a chance.
Please think over remedies and see if, when we all meet together, we can get something devised to bring about a change.
My own idea is that the Militia Force of Canada is like one of those big-hatted, hobble-skirted girls one sees walking along the sidewalks—all feathers and top.
To my mind, we must lay foundations good and solid.
Sam. Hughes

The Chief of the General Staff's less than accomodating reply:
"Units will be found to vary in efficiency in direct proportion to the efficiency of their officers.
The Hon. The Minister of Militia and Defence.
I have received your memorandum giving the conclusions you have arrived at as a result of your recent visit to various Camps. They do not surprise me. The conditions you have found should be well known to any one who is conversant with the facts. I believe the same conditions have existed for some years.
If you expect, with your present inadequate military system, that the Militia will obtain any high degree of efficiency you will be disappointed; though no doubt an improvement can be effected.
It is as well to be clear as to certain points. You specifically mention "training and provisional schols of instruction." What do you mean by these terms? The intention of the instructions for training in camp for 1911 and 1912 was that units should learn drill sufficient, and no more, to allow of their being moved about for manoeuvre purposes without disorder; apart from this that all attention should be directed to teaching them the duties that they would have to carry out in war. That the same idea should be kept in view at other than camp training. Does this accord with your conceptions on the subject?
A "Provisional School of Instruction" is intended to provide officers and N.C,.Os. Who are unable to go to the Regular Schools of Instruction with a convenient local means of qualifying for their positions, and of obtaining the same instruction, and going through the same courses, as if they were attending a regular school of instruction. The existing regulations on the subject recently approved by the Militia Council provide for this, and were specially brought in to prevent irregularities and to prevent officers and others getting a qualifying certificate which in most cases had not in the past been worth the paper it was written on. Is this your idea of what provisional schools should be?
What is your machinery for carrying on training, provisional or other schools, and instruction generally? You have the Permanent Force and the Active Militia. It is not probable you will obtain Militia officers to give up their civil vocations and follow the somewhat thankless task of teaching their fellows. You say you wish to extend the system of provisional schools and increase the number of sergeant instructors, but on the other hand you have, since coming into office, reduced the Permanent Force, and it is a matter of common knowledge that you held that force in very little esteem. This has had a bad effect. The Permanent Force of Canada has had no chance under the existing system of learning their work, I refer particularly to their field duties, they are, like most men, what their environment has made them, but whether good or bad, they are the only instrument you have for carrying out instructional work, and the better you make them the better will the Militia be, and its is as well, if they are to be your instructional medium, that this fact should be recognized. If you are going to rely on other instruments the matter is of less account.
The establishment of sergeant instructors (The Instructional Cadre) is now just complete. Thirty cavalry and seventy one infantry. This is the proportion of one instructor to two regiments. There is no insuperable difficulty in increasing this to make it one per regiment—in fact that was the initial intention. It is, however, a big demand on 4 weak squadrons of cavalry and 1 battalion of infantry to provide respectively 60 cavalry and 142 infantry instructors. Do you think the present meagre establishment of the Permanent Force can do it?
While on the subject of training, instruction and provisional schools it may be pointed out that though a sergeant instructor is capable of teaching N.C.Os. There is not one in twenty who is capable of instructing officers in the duties, and especially the field duties, which fall to an officer's lot in war, knowledge of tactics, etc. This being so, it is necessary that such instruction should be imparted by competent officers. What officers are available for this purpose?
You have found some Militia officers in camp more efficient than others. Units will be found to vary in efficiency in direct proportion to the efficiency of their officers. You probably noticed a difference between the two cavalry brigades you saw at Petawawa. One was in command of a competent officer who knew what to do and he had a competent regular officer as brigade major, the other brigade had neither of these advantages. The obvious immediate remedy is to remove incompetent officers. You perhaps do not care to do this. A further necessary step is to avoid making officers Brigade Commanders, etc., who are known to be unfit for such positions. Are you prepared to act on these lines? It may be remembered that the policy of trying to make Brigade Commanders something more than figure heads, and of bringing home to them their duties and responsibilities is of very recent origin.
The general inefficiency of Militia officers of which you complain is in my opinion largely attributable to the purely nominal courses of instruction which, up to 1911-12, they went through when obtaining certificates qualifying them for the several ranks. I have returns showing that about 90% of the courses are "special 7 day courses." Officers of all ranks attended at the same time, no syllabus was laid down and the result, as far as learning anything useful is concerned, was practically nil. Your kindly but as I consider mistaken efforts to provide provisional schools and individual instruction in cases when it was not feasible to put officers and N.C.Os. through the course that is now authorised has been one of the many difficulties in the endeavour to try and ensure that a qualifying certificate should be a reality and not a farce.
A good system of command and administration, discipline, suitable terms of service and ground for field exercises are also closely connected with any general improvement in training. Since your advent into office you have completely changed the system at Militia Headquarters in that you are exercising executive command as well as administrative control. You issue executive orders direct from your office on various matters intimately affecting different military branches at Headquarters. This is not in accordance with the military constitution of the country as laid down in the Militia Act. I mention the fact but do not presume to comment on it. I have been at Militia Headquarters long enough to be able to observe the results of this change of system. One result is that the heads of the military branches of the department are ceasing to carry on their work on their own initiative and responsibility, nor does the matter end here. Commanders of Divisions and Districts are exercising little initiative and accept no responsibility they can avoid. Officer in Canada having no opportunity of developing their character for command and responsibility in field exercises and manoeuvres, it is all the more important they should be trained to exercise their judgment and accept responsibility in every other direction.
The present tendency at Headquarters is no help to that end. A military system in which each individual does not take his own responsibility and do his own work will not produce any good result.
You told the Militia Council of some professorial experiences of your own, when, after some months of hard work, you discovered that those you were instructing had learn't nothing, because you had, on the blackboard, been doing the whole work yourself. Are you sure that you are not again repeating that procedure? If training, etc., is to improve, the entire system is involved, and the question arises whether a big department and a military system embracing a large country can be controlled on its administrative and on its executive side, and in all its details, by one man. I think the results will prove disappointing.
The weakness of a Militia Force when first embodied for service is admittedly lack of discipline. You have at a large meeting of Militia officers stated your views on this subject. I doubt if you would find any support for those views from professional soldiers of experience in any army in Europe. They may all be wrong. The broad results at present are that an individual who has failed, or thinks he will fail if he asks, to obtain from a properly constituted military authority something that he wants, turns to some gentleman of influence, usually political influence, or addresses you direct. Men of the permanent Force complain to you direct. I have been observing with anxiety the spread of this new doctrine. It is very damaging to military authority. I do not think it will make easier the observance of regulations for improved training and efficiency.
What degree of military efficiency can be expected from a man who does between eight and twelve days training in his life time? Yet that is the general condition to-day, as from 30 to 80% of the Militia serve only for one year. Sir John French in his report laid special stress on the necessity of making men fulfill their obligation, undertaken on enlistment, or serving three years. A captain recently applied the law and took proceedings against some men who failed to attend camp. The barrister for the accused took the ground that your remarks on then case, communicated to the press, constituted an official repudiation of the captain's action. If service is to be for one year no marked improvement in the general efficiency of the rank and file, beyond that now prevailing, can be anticipated, unless the period of annual training is increased.
Having decided on the nature of training to be given, ground is required for practical experiences. Drill and simple movements can be carried out on the Farnham field, at Niagara and at Sussex, but little else.
Ottawa,
15th July 1912.
Maj. General,
Chief of the General Staff.

Posted by regimentalrogue at 12:01 AM EDT