A Problem in Army Discipline
Topic: Humour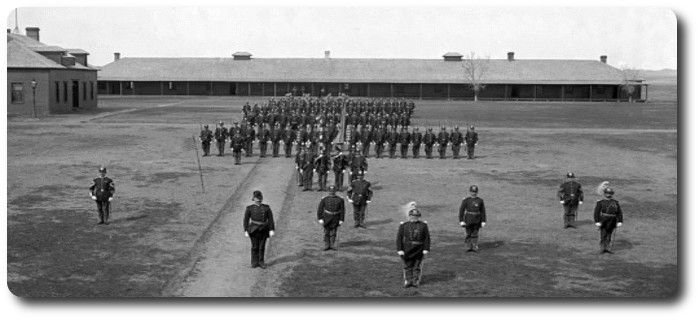 A Problem in Army Discipline
Eugene Register-Guard, Eugene, Oregon, 15 September 1902
By F.A. Mitchel
"Corporal," said the colonel, "I see Private Stokes strutting around the post as if he were the prime favourite of the secretary of war. It's not ten minutes since he was tied up by the thumbs. What does it mean?"
"Private Clarkson cut him down, sir."
"Cut him down!" exclaimed the colonel, aghast at such defiance of military authority. "Why, this is mutiny."
The corporal stood straight as a ramrod and said nothing.
"Arrest Stokes and tie him up again. Send Clarkson under guard to me."
In a few minutes private Clarkson came marching between two soldiers to the colonel's quarters. He was a rosy cheeked boy of eighteen, with flaxen hair, cut close, and blue eyes, in which were a defiant look."
"Are you aware, my man," asked the colonel, "that you have committed an act of mutiny?"
"Yes, colonel."
"And that mutiny is an offence punishable with death?"
No answer.
"Corporal, what was Private Stokes tied up for?"
"Fightin', sir."
"Whom did he fight?"
"Private Clarkson."
"What—this boy?"
"Yes, sir."
"He deserves to be tied up. What did you cut him down for, Private Clarkson?"
"He wasn't fightin' me, I was fightin' him. I hit him on the head with a scabbard."
"How long have you been in the service?"
"I enlisted last week."
"H'm—a recruit. You haven't had much time to learn discipline, but if you have no more idea of it than to interfere with a man under punishment you're not likely to make much of a soldier. Considering you're green, I'll let you off this time, but I warn you that if ever you mutiny again while under my command I'll have you shot."
The corporal marched the two guards away, and Private Clarkson turned and walked across the parade ground. The colonel watched him and saw him draw his sleeve across his eyes.
"Not much more than a kid," muttered the stern commander. "These innocent boys, ignorant of army discipline, are harder to break in than jailbirds. They don't know what they are doing."
Half an hour later as the colonel was leaving his headquarters he met the corporal of the guard at the door.
"Well, what is it, corporal?" he asked uneasily.
"Private Stokes has been cut down again, sir."
"What?"
"Cut down again."
"Who did it this time?"
"Private Clarkson, sir."
The colonel was nonplussed. How to handle such a case seemed to him an insoluble problem. He thought the matter over while the corporal was standing like a graven image and determined to give this beardless boy who was defying him a scare that would teach him the nature of army discipline.
"Corporal," said the colonel, "tell the sergeant of the guard to bring private Clarkson here with eight men."
When Clarkson and the men arrived, the colonel ordered the sergeant to have the muskets loaded with blank cartridges without Clarkson's knowledge. This was done, the men were drawn up in line, and the colonel himself took Clarkson, placing him thirty paces from and in front of the firing party.
"Now, my man," said the officer, "I'm going to show you what it means to defy my authority. I'm going to have you shot."
Private Clarkson turned pale, but said nothing. The colonel spent some time adjusting him before the line of soldiers in order to give him time to collapse. Clarkson stood silent, with a sullen pout on his lips.
"Ready!" said the colonel. ("By Jove, he's the biggest fool I ever knew. I believe I'll have to pretend to shoot him.) "Aim!"
Clarkson not only failed to wilt, but cast a scornful look at the colonel. This was more than the commander had bargained for.
"Are you aware," he said to the prisoner, "that when I give the next order you will be a dead man?"
There was a twitching of the muscles of the private's face, but he said nothing.
"If I let you off once more, do you think you will have sense enough not to cut Private Stokes down again?"
"No!"
The colonel stood grim for a moment, then gave the order:
"Fire!"
Eight muskets exploded. Clarkson fell.
The colonel, frightened lest some of the pieces had been loaded by mistake or the prisoner had died of shock, rushed to him, raised him, fanned him with his hat and tore open his coat at the neck that he might breathe more freely.
"Great heaven! It's a woman!"
Clarkson opened her eyes, saw the colonel bending over her in terror and—laughed.
"Who are you?" exclaimed the colonel.
"Private Stokes' wife."
the colonel gave a low whistle, then went to his quarters and countermanded an order excluding soldiers' wives from the post. It was plain to him that he could not keep them out.

Posted by regimentalrogue at 12:01 AM EST
Updated: Sunday, 6 March 2016 12:03 AM EST