Technique Changes But Bayonet Is Still Handy
Topic: Cold Steel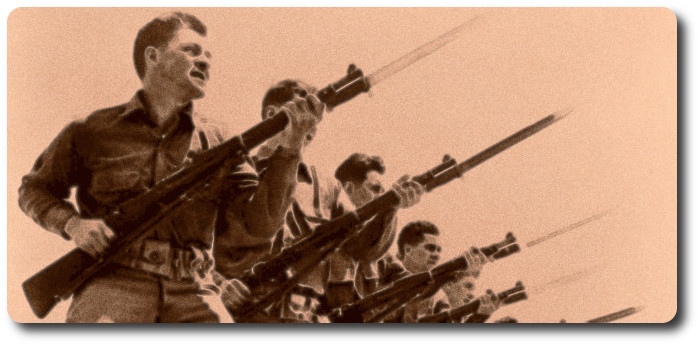 Technique Changes But Bayonet Is Still Handy
Sarasota Herald-Tribune, 25 April 1954
Washington—(UP)—Hand-to-hand fighting in Korea showed the armed forces that the bayonet has not been outmoded by "push button" warfare, but that some changes are needed in technique.
Bayonet practice is an integral part of all U.S. Army and Marines Corps training, the purpose being to give the soldier in confidence in his ability to fight with the weapon when he cannot fire a shot.
The soldier must learn to handle his rifle and bayonet in any type of condition, while scaling a wall, crawling through wire obstacles or balancing on a log bridge over a gully. He must also get the "spirit of the bayonet," accompanying each movement with the most ferocious shout or roar he can muster.
In early bayonet training the soldier was taught four main parries, with 30 "radical movements."

Boxing Technique
The change was brought about when it was noted in Korean fighting that soldiers would revert to more natural positions than those taught at the training camps.
It was also observed that most of the basic movements, similar to those taught by the armed services as far back as 1905, were difficult to execute well and that the soldier was off-balance while executing them.
An article by Dr. Arnold H. Seidler and Maj. George Golleher in the Marine Corps gazette describes the new method.
"The newly devised experimental method," the article states, "is a system of bayonet fighting closely approximating the techniques of the boxer…"
The theory underlying the new method is that the rifle and bayonet are used primarily as a quarterstaff. The five main strokes in this method are the slash, the horizontal slash, the vertical butt strokes, the horizontal butt stroke and the jab.
One point both the old and new techniques in bayonet fighting agree on is the spirit. There is no substitute for aggressiveness in bayonet combat.
Even in this day of jets and atom bombs, if the need ever comes for sudden, offensive action at close quarters, the armed forces of the Unites States will be ready with fixed bayonets.

Posted by regimentalrogue at 12:01 AM EST