Handling the Swagger Stick Requires Art
Topic: Militaria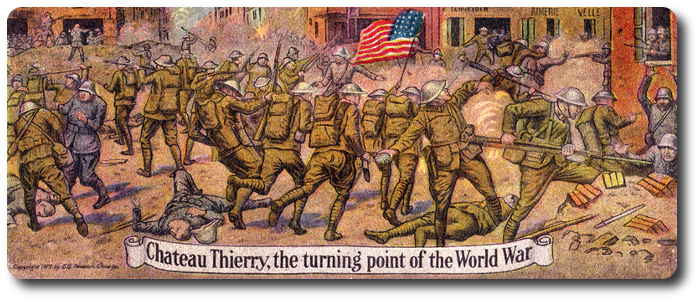 Handling the Swagger Stick Requires Art
Dashing Captain at Chateau Theirry as Model Exponent
The Milwaukee Sentinel, 26 March 1919
"It sure is an art to carry a swagger stick and get away with it, gracefully," The speaker was a lithe, tanned individual in a lieutenant's uniform, standing on Grand avenue, watching the promenade of people with the swagger sticks bought as souvenirs of the war exposition.
"The women do it more gracefully than the men," he opined, "I wonder why." here they came in a steady procession, with the little thing, too bulky for a toothpick, and too futile for a walking stick, some holding it like an overgrown cigarette, and some like a murderous "billy," and all more or less self-consciously.
"At Chateau Thierry we had a captain who carried one better than anyone I ever saw," he continued. "Just before the 'zero hour,' he sat there smoking a cigarette and tapping his boot. Occasionally he would glance at his wrist watch. Gosh, it it had been anyone but the captain his actions would have looked sissified, but with him it was pure art. All at once he tossed away his cigarette, waved his swagger stick, and we followed him over the top. He went just ten feet when they dropped him. He was dying, but he raised up on his elbow, waved that little stick, and yelled, 'Give 'em hell, boys!' and take it from me we did."
Swagger Sticks
The Milwaukee Journal, 22 September 1917
Maj. Gen. Thomas H. Barry passed a wise ruling at Camp Grant when he ordered all soldiers to conform to the army regulations governing wearing apparel, and expressly forbade the men from carrying swagger sticks.
The swagger stick does not inspire in the public the confidence that the public should feel for an officer or soldier. It indicates lack of seriousness or purpose, a desire to make upon small boys, giddy youths and a susceptible populace an impression of self-importance. It tends to arouse a suspicion that the soldier is more intent of a dashing appearance than on the serious business of beating Germany. Its very name suggests boastfulness, immaturity, playing to the grand stand. A cane is an old man's support, and a young man's pride. A swagger stick is a soldier's foppery.

Posted by regimentalrogue at 12:01 AM EST