NWMP Ration Scale (1900)
Topic: Army Rations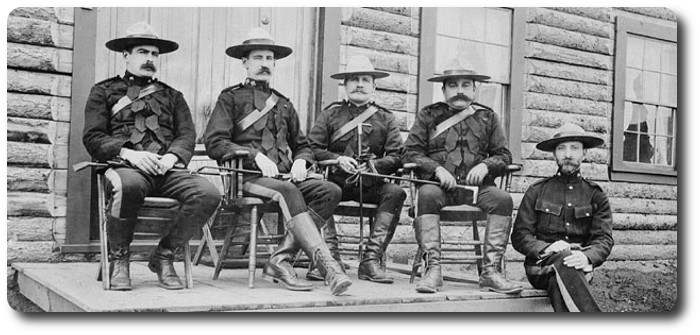 NWMP Ration Scale (1900)
From the Orders-in-Council documents archives on line by Library and Archives Canada, we find this memorandum on the ration scale for the North West Mounted Police which was submitted for the approval of the Governor General.
On a memorandum dated 4th August 1900, from the Right Honorable the President of the Privy Council, recommending that the scale of rations for the North West Mounted Police, approved by an Order-in-Council dated 29th Nov 1893, be cancelled and the following substituted therefore, to take effect from the 1st November, 1900:—
Beef – 1 lb., 8 oz.
or Bacon or Corned Beef – 1 lb.
Flour or Biscuit – 1 lb., 4 oz.
or Bread – 1 lb., 8 oz.
Butter – 2 oz.
Apples or other dried fruit – 2 oz.
or Jam or Syrup – 2 oz.
Potatoes – 1 lb.
or Beans – 4 oz.
Evaporated vegetables – 2 oz.
or Canned vegetables (tomatoes, peas, or corn) – 2 oz.
Coffee – ½ oz.
Tea – ½ oz.
Pepper – 1/36 oz.
Salt
Rice or Barley – 1 oz.
Sugar – 4 oz.
Oatmeal – 2 oz.
Lime juice and vinegar to be issued when and in such quantities as may be recommended by the Surgeon.
Small detachments on patrol or outpost duty may, in the discretion of the Commissioner, be allowed an extra issue, not exceeding 25% of the regular ration.
Commissioned Officers, and such married Non-Commissioned Officers as are specially authorized by the Minister, may draw two rations.
The Committee submit the same for your Excellency's approval.
(signed)Wilfred Laurier
The memorandum was counter-signed in approval on 27 August, 1900, by the Deputy Governor General.

Posted by regimentalrogue at 12:01 AM EST