1894 Approval of PF Bands
Topic: Canadian Militia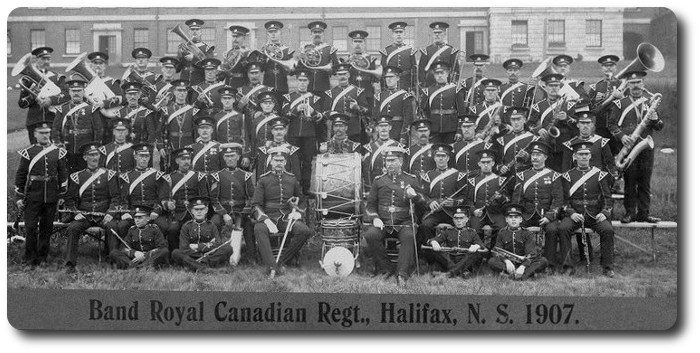 1894 Approval of PF Bands
From the Orders-in-Council documents archives on line by Library and Archives Canada, we find this memorandum on the formation of military bands.
Privy Council, No. 785 C.
To His Excellency,
The Right Honorable Sir John Campbell Hamilton-Gordon, Earl of Aberdeen, Viscount Formortine, Baron Haddo, Methlic, Farves and Keltie in the Peerage of Scotland, Viscount Gordon of Aberdeen, County of Aberdeen, in the Peerage of the United Kingdom, Baronet of Nova Scotia, etc., etc.
Governor General of Canada
Report of a Committee of the Privy Council on Matters of State referred for their consideration by your Excellency's command.
Present:
May it please your Excellency
The Committee on the recommendation of the Minister of Militia and Defence, advise that a Band shall form part of the Permanent Militia Force at each of the stations of that Force throughout the Dominion.

The memorandum was counter-signed in approval on 7 February 1894 by "Aberdeen"
John Campbell Hamilton-Gordon, 1st Marquess of Aberdeen and Temair KT, GCMG, GCVO, PC (3 August 1847 – 7 March 1934), known as The Earl of Aberdeen, was the Governor General of Canada from 1893 until 1898.

Posted by regimentalrogue at 12:01 AM EST