New Year, a German Soldier's View
Topic: The Field of Battle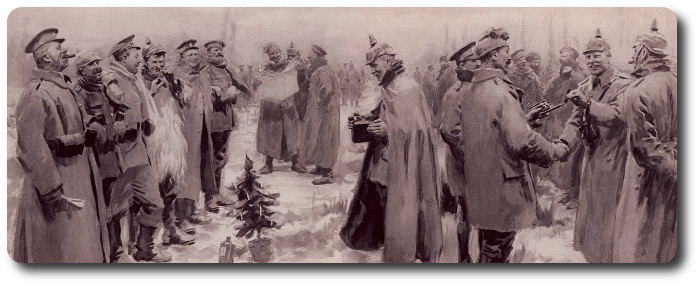 New Year, a German Soldier's View
Werner Liebert, German Army, quoted in Jon E. Lewis, The Mammoth Book of War Diaries and Letters; Life on the battlefield in the words of the ordinary soldier, 1775-1991, 1998
January 3rd, 1915
I have lit a pipe and settled myself at the table in our cow-house in order to write home, where they are certainly looking for news again. The pipe tastes good and the old soldier is also otherwise all right.
New Year's Eve was very queer here. An English officer came across with a white flag and asked for a truce from 11 o'clock till 3 to bury the dead (just before Christmas there were some fearful enemy attacks here in which the English lost many in killed and prisoners). The truce was granted. It is good not to see the corpses lying out in front of us any more. The truce was moreover extended. The English came out of their trenches into no-man's-land and exchanged cigarettes, tinned-meat and photographs with our men, and said they didn't want to shoot any more. So there is an extraordinary hush, which seems quite uncanny. Our men and theirs are standing up on the parapet above the trenches …
That couldn't go on indefinitely, so we sent across to say that they must get back into their trenches as we were going to start firing. The officers answered that they were sorry, but their men wouldn't obey orders. They didn't want to go on. The soldiers said they had had enough of lying in wet trenches, and that France was done for.
They really are much dirtier than we are, have more water in their trenches and more sick. Of course they are only mercenaries, and so they are simply going on strike. Naturally we didn't shoot either, for our communication trench leading from the village to the firing-line is always full of water, so we are very glad to be able to walk on the top without any risk. Suppose the whole English army strikes, and forces the gentlemen in London to chuck the whole business! Our lieutenants went over and wrote their names in an album belonging to the English officers.
Then one day an English officer came across and said that the Higher Command had given orders to fire on our trench and that our men must take cover, and the (French) artillery began to fire, certainly with great violence but without inflicting any casualties.
On New Year's Eve we called across to tell each other the time and agreed to fire a salvo at 12. It was a cold night. We sang songs, and they clapped (we were only 60-70 yards apart); we played the mouth-organ and they sang and we clapped. Then I asked if they hadn't got any musical instruments, and they produced some bagpipes (they are the Scots Guards, with the short petticoats and bare legs) and they played some of their beautiful elegies on them, and sang, too. Then at 12 we all fired salvos into the air! Then there were a few shots from our guns (I don't know what they were firing at) and the usually so dangerous Verey lights crackled like fireworks, and we waved torches and cheered. We had brewed some grog and drank the toast of the Kaiser and the New Year. It was a real good "Silvester", just like peace-time!

Posted by regimentalrogue at 12:01 AM EST