Discipline
Topic: Discipline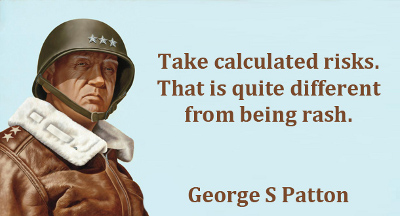 Discipline
Instructions to the Third United States Army, General George S. Patton, Jr., 3 April 1944
1. There is only one sort of discipline—PERFECT DISCIPLINE . Men cannot have good battle discipline and poor administrative discipline.
2. Discipline is based on pride in the profession of arms, on meticulous attention to details, and on mutual respect and confidence. Discipline must be a habit so engrained that it is stronger than the excitement of battle or the fear of death.
3. The history of our invariably victorious armies demonstrates that we are the best soldiers in the world. This should make your men proud. This should make you proud. This should imbue your units with unconquerable self-confidence and pride in demonstrated ability.
4. Discipline can only be obtained when all officers are so imbued with the sense of their awful obligation to their men and to their country that they cannot tolerate negligence. Officers who fail to correct errors or to praise excellence are valueless in peace and dangerous misfits in war.
5. Officers must assert themselves by example and by voice. They must be pre-eminent in courage, deportment, and dress.
6. One of the primary purposes of discipline is to produce alertness. A man who is so lethargic that he fails to salute will fall an easy victim to the enemy.
7. Combat experience has proven that ceremonies, such as formal guard mounts, formal retreat formations, and regular and supervised reveille formations, are a great help, and, in some cases, essential, to prepare men and officers for battle, to give them that perfect discipline, that smartness of appearance, that alertness without which battles cannot be won.

Posted by regimentalrogue at 12:01 AM EST