Reduced Drill During War
Topic: Drill and Training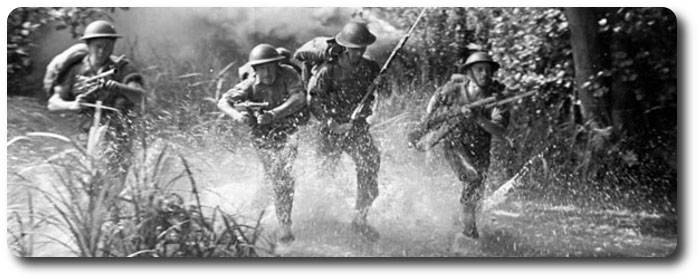 Reduced Drill During War
The Glasgow Herald, 1 April 1942
Complicated drill movements preformed with grace and precision are a delight to the eye of the onlooker at ceremonial parades. They may also inspire pride in the performer. Beyond that, however, their usefulness does not extend very far, and there will therefore be widespread approval of the decision that certain Army drill movements are to disappear for the duration of the war. Some movements must, of course, be retained. They are an essential part of any recruit's training. They accustom him to the handling of weapons, to obey orders instinctively, and to maintain his physical standards. They also encourage the growth of team spirit. But drill movements, especially those of a ceremonial character, are of negligible value in training a soldier to fight in jungles, in deserts, or in the streets and houses of shattered towns. A bayonet charge will be no less effective or demoralizing to the enemy if the attackers fail to carry their rifles at the "high port."
It is perhaps not sufficiently realized that many of the modern drill movements were evolved from old-time battle formations, which bore no more relation to present-day battle formations than the firepower of Wellington's regiments bore to the firepower of a tank regiment today. Yet the old formations have been retained on the barrack-square long after the mode of fighting that produced them has disappeared. Today we cannot afford to waste time over pattern-making by numbers. Without sacrificing discipline or the other virtues of drill movements, these must give way to the kind of special training which is needed to wage modern war.
The effect on the Army of the new order will be stimulating. It will be equally encouraged to the Home Guard, many of whom have felt a sense of frustration through their eagerness being side-tracked in dull drill. It is a welcome sign of grace, however belated, that the Army Council should have instituted the change; it is no less encouraging that, having made their decision, they should give it full publicity.

Posted by regimentalrogue at 12:01 AM EDT