Rations at Kiska; 1943
Topic: Army Rations

Rations at Kiska; 1943
Canadian Army HQ Report; The Canadian Participation in the Kiska Operations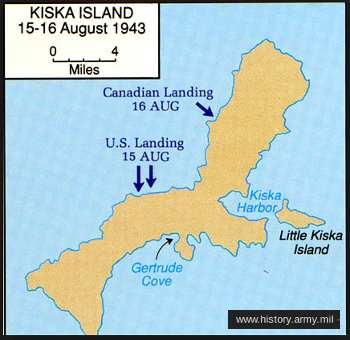 U.S. rations used by the Canadian troops during the Kiska expedition were of the following types, "D", "K", "C", "5 in 1", "B" and "A". Listed in their order of degree from emergency to normal issue their respective composition is shown below.
"D" Ration
3 bars concentrated sweetened chocolate (600 cal. each).
"K" Ration
Breakfast
4 oz. potted ham and egg
1 pkg. 3 K-l biscuits
1 pkg. 4 K-2 biscuits (sweetened)
1 pkg. coffee
3 cubes sugar
1 pkg. "Charm" candies
1 fruit bar
Dinner
4 oz. cheese
1 pkg. 1 K-l biscuits
1 pkg. 4 K-2 biscuits
1 pkg. lemonade powder
3 cubes sugar
2 oz. dextrose tablets
1 stick chewing gum
4 cigarettes
Supper
3 3/4 oz. pork and veal loaf
10 gm. bouillon powder
1 pkg. 3 K-1 biscuits
1 pkg. 4 K-2 biscuits
2 oz. "D" Ration chocolate
1 stick chewing gum
4 cigarettes
Each meal packed in flat cardboard box in waterproof paper.
"C" Ration
A day's ration consisted of 3 tins of "B"-unit and 3 tins of "M"-unit. A meal consisted of one tin of each unit. Sterno heaters or heat tabs were issued for use with "C" rations.
"B"-unit
Bread ration (biscuits)
Beverage - cocoa, coffee or lemonade
3 pieces of sugar
candy or chocolate
"M"-unit
Meat and vegetable stew
or
Meat and vegetable hash
or
Meat and vegetable with beans
"5 in 1" Ration
A cardboard carton containing 28 lbs. of prepared "B" ration, issued to feed five men for one day, (not one man for five days). Strictly an emergency ration, all food being packed in cans. This ration was used to a limited extent towards the end of the first week on Kiska as a welcome relief from "C" rations.
"B" Ration
A complete bulk ration consisting solely of dried, dehydrated or canned foods. Menu No. 2 intended for Frigid or Cold areas, contained some 125 articles of diet. The "B" Ration was the standard issue during the stay at Kiska, except when it was supplemented from time to time by the arrival of a ship with "A" rations of fresh meat, vegetables and eggs. The full list of "B" ration items is given in "U.S. Issue Chart based on No.2 Expeditionary Force Menu showing quantities required of each component for 10,000 rations. Revised 9/28/42."

Posted by regimentalrogue at 12:01 AM EDT