US Military Rations
Topic: Army Rations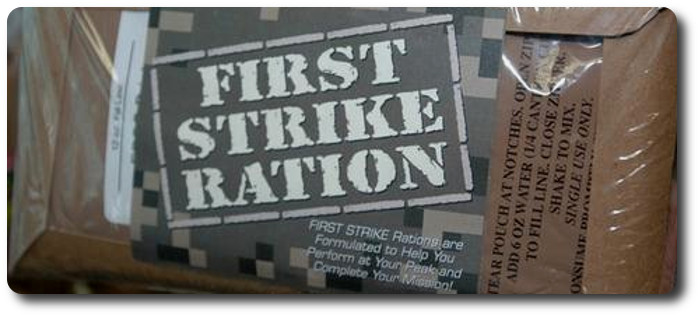 US Military Rations
Excerpted from 2015 Operational Rations Handbook, U.S. Army Natick Soldier RD&E Center, DoD Combat Feeding Directorate
Individual Rations
Meals, Ready–to–Eat (MREs)
The Meal, Ready to Eat is the primary individual ration of the US Armed Forces. The balanced nutrition and low logistical burden of the MRE give America's Warfighters the ability to fight and win in any environment. Meal, Ready–to–Eat, Individual MRE.
Modular Operational Ration Enhancement (MORE)
The Modular Operational Ration Enhancement (MORE) was developed to augment daily operational rations with additional components tailored to particular environments. There are two types of MORE; one targets high altitude and cold weather while the other is intended for hot weather operations.
First Strike Ration® (FSR)
The FSR is a compact, eat–on–the–move assault ration designed for high intensity combat operations. The FSR is substantially lighter and more compact than the Meal, Ready to Eat, enhancing Warfighter consumption, nutritional intake, and mobility.
Meal, Cold Weather/Food Packet, Long Range Patrol (MCW/LRP)
The Meal, Cold Weather (MCW) and the Food Packet, Long Range Patrol (LRP) are designed to meet the unique requirements of the United States Marine Corps (USMC) and Army Special Operations Forces (SOF). These specialized forces require appropriate nutritional and operational characteristics for extreme cold environments, as well as a restricted calorie ration with a long shelf life that can be used during initial assault, special operations, and longrange reconnaissance missions.
Group Rations
Unitized Group Ration (UGR)
There are currently 4 rations in the UGR family:
The UGR–Heat and Serve consists of precooked, shelf–stable food issued in lightweight polymeric trays.
The UGR–M is the primary group ration of the Marine Corps, and contains dehydrated items to meet the Corps' expeditionary requirements.
The UGR–A consists of both shelf–stable and perishable components. It delivers the highest–quality, most fresh–like field feeding available anywhere.
The unique UGR–Express uses chemical heating technology to provide hot food anywhere on the planet, without the need for specialized field feeding equipment.
UGR–H&S — Unitized Group Ration–Heat & Serve
Aside from the UGR–E, the UGR–H&S is intended to be the first group ration available in theater, often utilized in combination with the MRE for daily feeding. The UGR–H&S can be prepared on field kitchens without refrigeration capability. Like all Unitized Group Rations, the UGR–H&S simplifies the logistics chain by including everything needed to serve a group meal in a single NSN. Each UGR–H&S module contains 50 servings of pre–cooked food, serving utensils, dining packets, trays, and trash bags.
UGR–A — Unitized Group Ration–A
The UGR–A is designed to provide restaurant quality group meals to Warfighters in the field. It is the most highly accepted ration in the UGR family. The UGR–A is the only military operational ration that contains frozen food components. For that reason, it is based on a build–to–order assembly process that requires refrigerated/frozen storage and a field kitchen for preparation.
UGR–A — Short Order
The Unitized Group Ration – A Short Order (UGR–A, Short Order) is designed to provide Warfighters with high quality short order entrées in locations where a dining facility is not available. This creates increased universal acceptance by providing Warfighters with an alternative to the current center of the plate meals.
UGR–M — Unitized Group Ration–M
The UGR–M is used primarily by the Marine Corps. It is designed to meet requirements for providing Marines with high quality group rations that do not require refrigeration and are quick and easy to prepare. All ingredients in the ration are shelf stable, with an emphasis placed on including commercial products in all menus.
UGR–E — Unitized Group Ration–Express
The UGR–E provides a complete meal for 18 Warfighters in remote locations where group field feeding would not otherwise be possible. It is a compact module that does not require cooks or a field kitchen for preparation. With the simple pull of a tab, the UGR–E is ready to serve in 30–45 minutes. One UGR–E module provides all of the items necessary for a complete meal to serve up to 18 Warfighters, including 4 trays of cooked food, drink pouches, snacks/candies, compartmented dining trays, seasoning, disposable eating and serving utensils, condiments, beverages, napkins, wet–naps, and trash bags.
Navy Standard Core Menu (NscM)
The Navy Standard Core Menu (NSCM) is designed to standardize food service throughout the Navy fleet while providing more variety and nutritious choices to Sailors. It meets the diverse tastes of US Navy sailors by offering old favorites like pizza and burgers along with more ethnic choices, like vegetable stir–fry and chicken fajitas. The NSCM facilitates a more streamlined procurement process and ensures consistency in product availability.
Special Purpose Rations
Tube Foods
The purpose of tube food is to feed U2 reconnaissance pilots in the U.S. Air Force (USAF) during missions that may last as long as 12 hours. The high altitude profile of these missions requires pilots to wear full pressure suits and helmets that cannot be removed, making it impossible for them to consume conventional rations. Tube food attaches directly to a feeding tube that extends through a receptacle on the helmet to the inside where the pilot is able to sip the food from the straw–like tube. The Combat Feeding Directorate is the sole supplier of tube foods to the USAF and has unique facilities and food processing equipment to produce a wide variety of these highly specialized, unique products. All tube foods provided to the USAF meet strict requirements for percentages of fat, protein, and carbohydrates while being flavorful and easy to consume and digest. These requirements result in a product that provides sustenance sufficient enough to enable pilots to perform exhausting physical and cognitive duties for periods up to 12 hours.
Meal, Religious, Kosher/Halal
The Meal, Religious, Kosher/Halal is utilized to serve those individuals in the military service who maintain a strict religious diet.
Meal, Religious, Kosher for Passover
The purpose of this ration is to feed those individuals in the military service who maintain a Kosher for Passover diet by providing three meals per day for not more than eight days during their observance of Passover. Like the MRE, it is a totally self–contained meal combined in one single flexible meal bag.
Food Packet, Survival, General Purpose
The Food Packet, Survival, General Purpose is used by the Services to sustain an individual in survival situations, including escape and evasion, under all environmental conditions, and when potable water is limited. Requested by the Air Force, it is typically stored in the survival kit on aircraft and is meant to provide basic sustenance for periods less than five consecutive days.
Food Packet, Survival, Abandon Ship
The Food Packet, Survival, Abandon Ship is used by the Navy to sustain personnel who must abandon ship. It is positioned in lifesaving craft aboard larger ships.
Food Packet, Survival, Aircraft, Life Raft
The Food Packet, Survival, Aircraft, Life Raft is used by the Navy to sustain personnel that survive air crashes at sea. The packet, along with other essential equipment, is supplied in the emergency kits carried aboard naval aircraft.
Ultra High Temperature (UHT) Milk
This item is used by the Armed Forces as a mandatory supplement and/or enhancement for operational ration feeding during operations which either do not have refrigeration capability or have limited capability. It is used in situations that do not permit resupply of perishable foods.

Posted by regimentalrogue at 12:01 AM EDT