Japanese Army Rations, 1944
Topic: Army Rations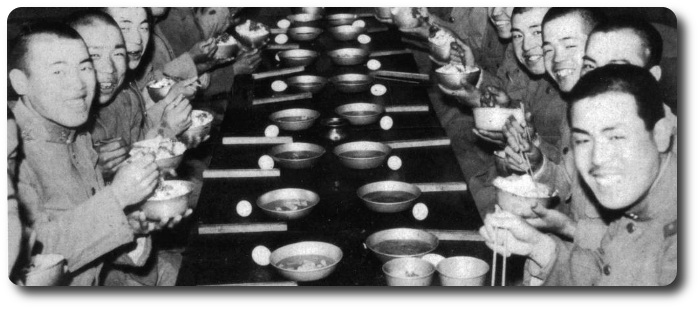 Japanese Army Rations, 1944
Soldier's Guide to the Japanese Army, Military Intelligence Service, November 1944
…when the Japanese soldier gets nothing to eat he becomes just as hungry and dejected as any other soldier.
There has been much misunderstanding of the food situation in the Japanese Army. Myths have sprung up concerning the ability of the Japanese soldier to subsist on extremely small quantities of food, and it has been popularly believed that he eats little save rice while in the field.
As a matter of fact, when the Japanese soldier gets nothing to eat he becomes just as hungry and dejected as any other soldier. He likes adequate meals at regular times and appreciates variety. Inadequate rations bring their full quota of complaints and exercise a depressing influence on individual and unit morale in the Japanese Army. One Japanese soldier plaintively records in his diary, "If I eat tonight, I may not be able to eat tomorrow. It is indeed a painful experience to be hungry. At the present time all officers, even though there is such a scarcity of food, eat relatively well. The condition is one in which the majority starves." Another complains about the monotony of the rations: "The never-changing soup for the morning meal. Only two meals today—army biscuits to gnaw at in the morning and miso soup with watermelon in the evening. Also had some salt beef."
The Japanese field ration is adequate and reasonably tasty; most of its components, after proper inspection, can be eaten by Allied troops. Rice is the stable part of the ration, comparable with bread or biscuit in other armies. Naturally, the Japanese soldier would no more be satisfied with a ration consisting exclusively of rice than an Allied soldier would with bread alone.
The rice, which is cooked dry to the consistency of a sticky mass to facilitate eating with chopsticks, may be either the polished or unpolished variety.
Ordinarily the polished type is used, since it can be kept in the cooked state longer. To ward off beri beri some barley may be mixed with the rice, but this mixture is not overly popular. Instead, the rice usually is cooked with a few pickled plums which not only afford protection against beri beri but also act as a laxative to counteract the constipating effect of rice. To make the rice more palatable, it prdinarily is seasoned with soy-bean sauce or the equivalent powder known as miso. Both the sauce (shoyu) and the miso are prepared from soy-bean seeds, to which malt and salt are added. The resultant products have a flavor similar to Worcestershire sauce and are much like the soy sauce found in all U.S. Chinese restaurants.
Other favored foods are pickled radishes; dried, tinned, or pickled octopus, which would be roughly comparable.with canned-salmon or herring in other armies; dried bread (hard-baked wheaten cakes), and vegetables. Preserved foods include dried and compressed fish—salmon or bonito which must be soaked and salted to make it palatable; pickled plums, compressed barley or rice- cakes, canned oranges and tangerines, and powdered tea leaves. Dehydrated vegetables, especially beans, peas, cabbage, horse-radish; slices of ginger; salted plum cake; canned beef; canned cooked whale meat; confections, and vitamin tablets often are included in ration issues. The ration is not standardized and ordinarily varies from 2 1/2 to 4 pounds per day for the standard field ration. The ration is calculated in two forms, the normal (fresh) and the special (preserved), depending upon the availability of fresh foods. Quantities also are graduated according to three categories of issues: the basic or full issue distributed when transport is adequate; the issue when transport is difficult; and the third and least quantity, issued when transport is very difficult.
There are two emergency rations. The "A" ration consists of about 1 pound 13 ounces of rice, 5 ounces of canned fish or meat, and a little miso and sugar. The "B" ration consists of "hard tack". This comprises three muslin bags of small oval biscuits; each bag contains a half-pound biscuit for one meal. This ration may only be eaten on orders of an officer. A compressed ration is also available for emergency use. It is made up of a cellophane packet containing cooked rice, pickled plums, dried fish, salt, and sugar.
An iron ration is issued only to parachutists. Weighing half a pound, this ration consists of wafer-like biscuits made of ground rice and flavored with sesame seed, and an extract made from mussel flesh, dried plums, preserved ginger, crushed soy beans, and mori (a form of dried seaweed).
An emergency air-crew ration found in New Guinea contained 20 ounces of unpolished rice, puffed wheat; biscuits, dried fish, two small bottles of concentrated wine (35 percent alcohol), candy, large salt tablets, and a water-purifier kit. The entire kit was packed in five transparent water-proof bags. On Bougainville a "Polished Rice Combination Case" was found which contained 40 portions, mostly rice, loose-packed in an air-tight tin case enclosed in a wooden crate. This, in addition to the rice, contained miso paste, vitamin-B concentrate, vitamin A and D tablets, powdered tea (vitamin C), fuel, and matches. These ingredients were packed in 3-ounce cans, with one can intended apparently for every two portions of rice.
Every opportunity is utilized to augment the normal ration issue. Fishing, gardening, and purchases from natives frequently afford welcome additions to the daily diet as well as variety. Foraging, both organized and unorganized, also is resorted to if the country is sufficiently well stocked to make such enterprise profitable. The Japanese soldier is very fond of confections, and these he may secure in the "Comfort Bags" sent by relatives and friends at home.
The transport of rations naturally varies with the terrain, the nature of the military operations, the availability of local food sources, and other factors. In New Guinea emergency rations sufficient for 12 days were carried by a battalion of 700. Each man carried a three-day supply of "fresh" food and a four-day supply of "preserved", with the reminder, aggregating 2.98 tons, carried in the battalion train. In another instance an infantry regiment carried rations for ten days, with four days calculated on an emergency basis. But the Japanese have made matches with only a five-day supply. Packaging was quite inferior in the early days of the war, and much canned and dehydrated food was lost as a result of this deficiency. Considerable improvement has been noted, however, in recent operations.
Army Ration Scales
Ration Item
Normal or Fresh Scale
Special or Preserved Scale
[Figures are ounces except where otherwise indicated]
Rice, or rice and barley
28
Compressed rice
20
Fresh meat or fish
7.4
Canned meat or fish
5.3
vegetables
21.2
vegetables
4.2
radish
2.1
plum
1.6
Shoyu (saure)
1.7
Powdered miso
1.1
Bean paste
2.6
Salt
0.5
0.5
Sugar
1
1
Tea
0.2
0.2
Total
4 lb.
2 lb. 2 oz.

Posted by regimentalrogue at 12:01 AM EDT