Chinese Strategic and Tactical Principles
Topic: Military Theory

General Strategic and Tactical Principles
Handbook of the Chinese People's Liberation Army, Defence Intelligence Agency, November 1984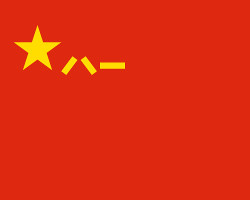 Inherent in Mao Zedong's military writings are numerous strategic and tactical principles, many having a strong emphasis on politics. These principles, although not adhered to as rigidly as they were before Mao's death, as generally used in both planning and operation.
The aim of war. War aims to destroy the effective strength of the enemy rather than to hold areas of cities.
Security. Conservation of the strength of one's own forces is essential to any military operation.
Mobility. Withdraw before the enemy's advance; pursue the enemy's withdrawal; disperse or concentrate one's own forces swiftly on a wide and flexible battlefield.
Local superiority. Concentrate overwhelming strength against an enemy's weaker points; accept a decisive engagement only with two to six times the enemy's strength.
Offensive action. Attack is the primary means of destroying the enemy; surround the enemy and attach from at least two directions.
Singleness of direction. Strategically, there must be only one main direction at a time; tactically, there must be a single objective.
Flexibility. Tactics must be ingenious and flexible, suited to the time, place, and the situation.
Surprise. One's own forces must be assembled in secrecy and must attack at the time and place which the enemy leasts expects.
Initiative. Always seize the initiative, preserve one's own freedom of action, and force the enemy to retreat.
Unity of command. Unified command is essential to success, particularly in the coordination of guerrilla and regular forces.
Preparation. Combat requires meticulous preparation to avoid entry into battle without assurance of success.
Confidence. Victory is determined by the confidence of commanders and troops in the inevitable triumph of their cause.
In addition to these principles, the Chinese place great emphasis on the maintenance of morale. Apart from the normal concerns for morale common to all armies, political commissars are found at all levels down to and including companies. They are responsible for the morale, motivation, and political education of all personnel.


Posted by regimentalrogue at 12:01 AM EDT