The Mess Account Discrepancy
Topic: Officers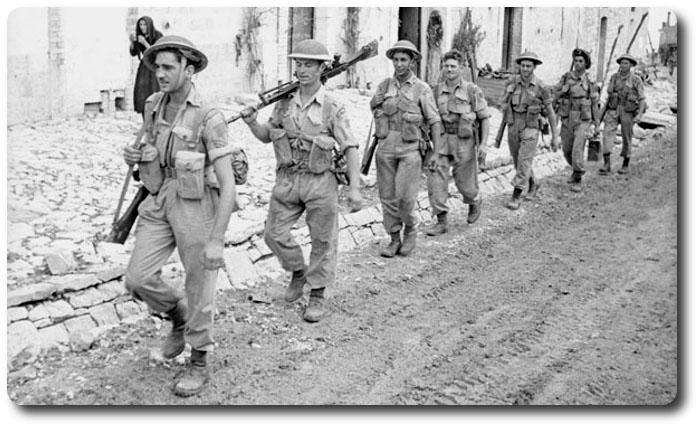 Infantrymen of the Hastings and Prince Edward Regiment advancing through Motta, Italy, 2 October 1943. Photographer: Lieut. Jack H. Smith MIKAN Number: 3525793
The Mess Account Discrepancy
And No Birds Sang, Farley Mowat, 1979
In the circumstances, it was inevitable that we would begin to feel a festering contempt for the pompous paper-pushers of our behind-the-lines bureaucracy, whose only discernible reason for existence seemed to be to make our lives a trial.
One such was a pasty-faced, pot-bellied major from some arcane financial section who appeared every time we withdrew into reserve, but never came near when we were within artillery range of the enemy. He pursued us with dogged tenacity through Sicily and Italy for six months, demanding that we rectify a discrepancy in the officers' mess accounts amounting to the horrendous sum of three pounds, nine shillings and six pence. He would not accept my explanation (I was mess secretary during much of this period) that my predecessor had been blown to bits together with the account books and the mess funds themselves when a landmine went off beneath his truck.
"That just won't do—won't do at all," the major huffed.
"He should have been blown up by a two-ton bomb instead?" I asked innocently.
The major glared angrily. "There should have been copies of the mess accounts kept in a safe place. The missing monies must be accounted for or you will be held personally answerable to the auditor-general!"
He demanded that I institute a full-scale Court of Inquiry to trace the missing funds. What I actually did was lead him a merry chase for months, until I got so sick of his face that I collected the equivalent of the missing sum in captured German marks and sent it off to him. In due course I received his official receipt, properly stamped and signed, in quintuplicate.

Posted by regimentalrogue at 12:01 AM EDT