The Queen's Scarves
Topic: Militaria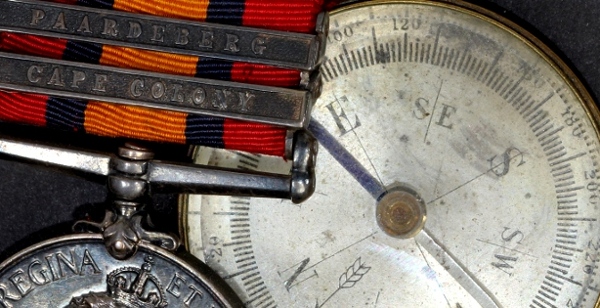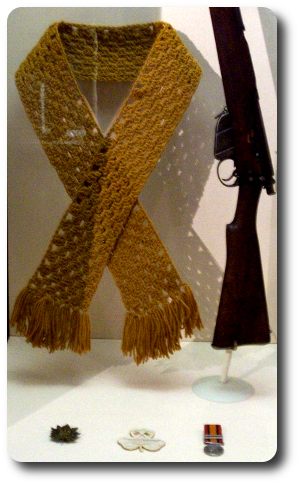 The Queen's Scarf presented to Private Richard Roland Thompson of the 2nd (Special Service) Battalion, The Royal Canadian Regiment, on display in the Canadian War Museum, Ottawa, Ontario.
(A replica of this scarf can be viewed at The Royal Canadian Regiment Museum, London, Ontario.)
The Queen's Scarves
(From our Special Correspondent.)
London. June 20, 1902.
The Advertiser; Adelaide, SA
Last Tuesday's "Gazette" contained dispatches addressed to the Secretary of State for War by both Earl Roberts and Lord Kitchener. Earl Roberts' communication is dated March 1 last, and is in continuation of his dispatch dated London, September 4, 1001, in which he brought to notice the services rendered by the various arms and departments of the army in South Africa during the time he was in chief command there, up to November 29, 1900. He submits names of additional officers, non-commissioned officers, men, nurses, and civilians, who also rendered meritorious service. The delay in completing the list was partly caused by the pressure of work at the War Office as well as by the necessity for repeated references to South Africa. Apart from these reasons, however, Earl Roberts thought it desirable to allow such a period to elapse before forwarding his final recommendations as would enable him to receive representations from general and commanding officers in the held on behalf of those whose names might have been overlooked in the previous dispatches. Earl Roberts desires that all the mentions now made may be considered as bearing the same date, November 29, 1900, as those in the previous dispatch.
In conclusion he says:—
"I desire to place on record that in April, 1900. Her Majesty Queen Victoria was graciously pleased to send me four woollen scarves, worked by herself, for distribution to the four most distinguished private soldiers in the colonial forces of Canada, Australia, New Zealand, and South Africa then serving under my command. The selection for these gifts of honor waa made by the officers commanding the contingents concerned, it being understood that gallant conduct in the field was to be considered the primary qualification."
The names of those to whom the scarves were presented are:—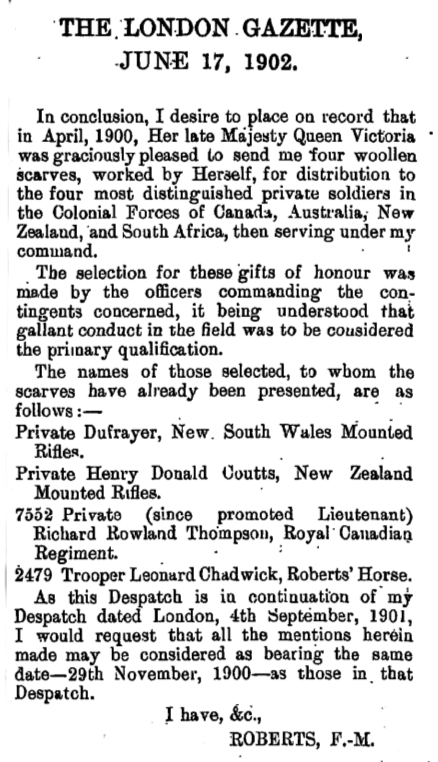 Posted by regimentalrogue at 12:01 AM EDT
Updated: Wednesday, 22 April 2015 12:52 AM EDT