The Soldier's Load; Vietnam
Topic: Soldiers' Load

The Soldier's Load; Vietnam
Achilles in Vietnam; Combat Trauma and the Undoing of Character, Jonathan Shay, M.D., Ph.D., 1994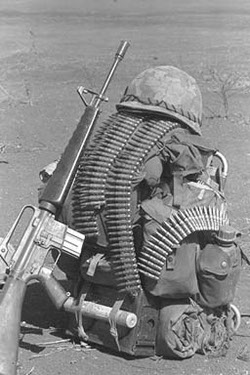 We carried enough firepower to act like a company. Six people—that's hard to believe, but we did. We had a small arsenal with us.
I carried six frags, four Willie Peters, two LAWs--that's like a bazooka, a rocket--two belts of [M-]60 machine gun, thirty clips of sub-Thompson ammo, plus two boxes of .45 ammo. I had a thirtyought-six with two boxes of ammo, my knives, and a .357 pistol. Everybody carried two belts of ammo, and the Sixty [the M 60 machine gunner] would carry, he'd carry two full cases of ammo, plus two belts hooked, and just about everything I was carrying. 'Cept like we all had different weapons. ____ had a 16 [M 16]. 1 don't know why he walked around with a 16. ____ had the 60. ____ was carrying a grease gun, it's like a Thompson, called a burp gun, German, shot .45 ammo…
I carried a sawed-off shotgun, too. For brush. When I got into thick, thick shit, and the shit was hitting the fan, that's how I blew my hole through. Depending on what area you're working, that's what you took… [The team had] one 60, one Thompson, one burp gun, an M-16, an M-79 thumper, a BAR. Actually we had like two machine guns, because the BAR was just like it. And we all carried Claymores and trip flares and flashlights, three of us carried two LAWs, and a belt of M-79. YOU carried what you wanted to carry. We had more weapons than the company did.

Posted by regimentalrogue at 12:01 AM EDT