Saluting in the Field
Topic: Discipline

Saluting in the Field
Gen. Chris Vokes sees strength in saluting gesture with the Canadians in Italy
Canadian Army Training Memorandum, No 36, March 1944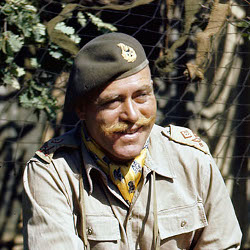 1. In a "message from the G.O.C." in the army newspaper Red Patch, Major-Gen. Christopher Vokes of Ottawa told the men of his Canadian division that "to command-incomparable fighting men such as yourselves is an honour which does not sit lightly on my shoulders."
2. His message was directed at saluting. The salute, he said, is the "hallmark" of a soldier's training.
3. The Commander said that he had been in the army since the age of 17 and that there is nothing he would rather be than a soldier.
4. THE BASIS OF TRAINING
(a) "The basis of all our training is good discipline," he went on. "This makes us steady in battle and receptive to the wills of our commanders. Our discipline aims at a mutual respect and understanding between officers, NCOs and men and a deep all-consuming pride in one's self, one's comrades and one's unit. This must always remain the core of our existence as a fighting force.
(b) "An indispensable part of our discipline is that the soldier (officer or man) should recognize his superior at all times. Custom decrees that this recognition be normally achieved by a form of greeting known as a salute. The junior salutes, the senior. returns the salute. Even generals salute each other.
(c) "In civil life one raised one's hat or touched one's cap to one's father, one's father's friends or others whom one wished to greet in a respectful way and smilingly said, 'Hello, Dad' or 'Good morning, Mr. Brown.' I was brought up by my parents to do so. My own son and your sons are being brought up in this fashion.
(d) "So in the army so long as we remain part of it let us not forget these courtesies. When we salute our superiors in rank, let us smile and pass the time of day. Let it be a cheerful and comradely gesture. We are all comrades in arms in the Allied armies. That is part of our strength which will help defeat the Hun as surely as our shells and bullets."
5. He concluded the message "Nothing can keep us from Victory. Nothing will."

Posted by regimentalrogue at 12:01 AM EDT