CEF Discharge Depot: Invaliding
Topic: CEF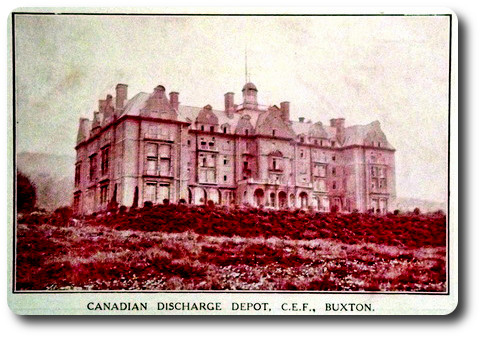 Adjutant-General's Branch
CEF Discharge Depot: Invaliding
Report of the Ministry
Overseas Military Forces of Canada; 1918
As it became necessary, from time to time, to despatch to Canada parties of men, principally those being returned by the Allocation Board, i.e,, men in a low category whose services were not required, as well as men who were being returned for special reasons, such as instructional purposes, it was essential that these men should be uniformly prepared and held for embarkation at short notice. A Unit was, therefore, organised and known as No. 1 Canadian Discharge Depot, and, in view of the fact that the majority of sailings took place from Liverpool, it was located at Buxton. During the year ending December 31, 1918, the Buxton Discharge Depot handled 21,622 men returning to Canada, of which number 1,152 were proceeding on furlough.
In the early part of 1918 permanent Transatlantic Conducting Staffs, who were in charge of reinforcements from Canada, reported at the Discharge Depot, Buxton, on arrival. They were then detailed by the Officer Commanding the Depot to take charge of whatever party was returning to Canada and, in addition to this Staff, an officer was detailed by Headquarters, Overseas Military Forces of Canada, to take charge of each district party under the command of the Officer Commanding the Permanent Conducting Staff.
In addition to personnel returning to the Discharge Depot, Buxton, there were men who, on account of their wounds or sickness, had been marked by the Medical Authorities as soldiers who should be invalided to Canad for further treatment. These men were known as Invaliding Cases, and until June, 1918, such men were returned to Canada in regular hospital ships which had been taken over by the Canadian Government and were making periodical crossings from England to Canada. After the sinking of H.M.H.S. Llandovery Castle, the practice of using hospital ships was discontinued, and vessels known as Ambulance Transports were employed. These vessels travelled under escort up to the time of the Armistice.
---

Posted by regimentalrogue at 12:01 AM EST