The Sergeant Major's Welcoming Address
Topic: Drill and Training

The Sergeant Major's Welcoming Address
Sergeant-Major Rafuse's standard welcome to new recruits at Camp Aldershot, beginning around 1939.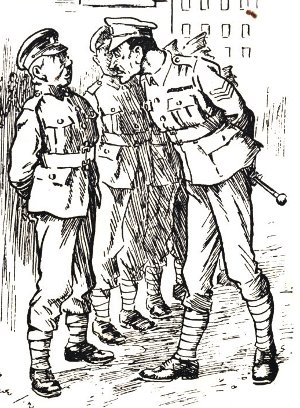 A cartoon sketch from an earlier war, but showing the same spirit of presence that Sergeant Major Rafuse undoubtedly strived to maintain.
He spoke, "My name is Clifford Rafuse." Then, taking his swagger stick and touching the crown insignia on his arm, he would say, "I am a Sergeant-Major. You will not address me as Clifford, Cliff, Rafuse, sir, hey you, or any of the foul names you really think of me in your pea-sized brains. I am a Sergeant-Major – here, in the shower, in the latrine, in my drawers, in my pajamas, or when I am dead. I am, and always will be Sergeant-Major Rafuse to you. If you pumpkin-heads see me on the street twenty-five years from now—and most of you won't survive this training to live that long—I will still be addressed as Sergeant-Major by you. Do you understand that?" Then bellowing again, he demanded they scream an answer: "Yes, Sergeant-Major."
He would then go on: "I'm not your mother; I won't tuck you in bed; and I won't be your pal. I will make you bleedin', sloppy, unwashed, useless, pudgy loafers who thought this army was a holiday camp into battle shape. I shall turn your pudgy asses into such shape that you will have muscles in your defecation. Some few of you who fooled your way through some little school may think you are smart and will think you will fool me because you know the ABC's! You will not fool me; you are not smart. And when I say "jump", you say "How high". When I say "defecate", you say "Yes, Sir, and what colour, Sir?. I shall make you baggy, civilian lot of unwashed, sloppy, buggers into cleaned, shined, well-spoken, and obedient battle-ready troops. Or … you will suffer a fate and terror worse than heck.
"Your Mother can't save you. Nobody is tougher than I am. I am tougher than any Kraut you ever encounter. Even the Padre is scared of me. I'll march you, drill you, train you, punish you, and toughen you into soldiers. Don't talk back; don't complain, even to the Padre; because my words will even bring tears to his eyes. Now tighten up those soft pudgy asses, pull in those sagging chins, and suck in those baggy guts. Hands by your sides with thumbs down the seams of those potato-bag looking trousers.
"Like this," as he demonstrated, "and when you get that right, we'll take you ladies to a lovely King's breakfast of such quality you'll be glad when we let you work in our kitchen. Our next present to you slobs will be a visit to His Majesty's barber so as you can get that bleedin', mangled, lady-length, dirty, bug-infested civilian hairdo cut off. You will then, at least, not look like a bleedin' civilian, with a filthy mat on your head. Now fall out, ladies, and form up for the cookhouse. MARCH – quickly, before I lose my f…n' temper"

Posted by regimentalrogue at 12:01 AM EST