Remembrance Day Restored as Holiday 1947
Topic: Remembrance

Remembrance Day Will Again be Observed as Statutory Holiday
Dead Of Two Wars To Be Honored November 11.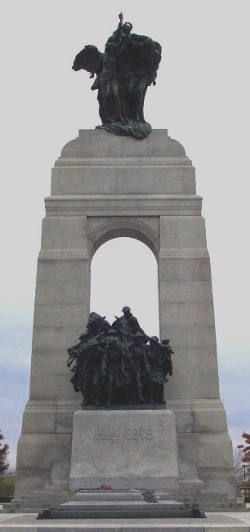 Shawinigan Standard, 5 November 1947
By common consent, Tuesday, Nov. 11, will be celebrated — as last year — as a statutory holiday to commemorate the dead of the First and Second World Wars.
Shortly after VJ-Day, some discussion arose as to whether a separate day should be observed to commemorate the Second World War dead. However, a convention of the Canadian legion voted to keep Nov. 11 as Remembrance Day for both wars, and government officials inclined to the same view.
Nov. 11 was first declared a statutory holiday after the First World War, under the Armistice day Act, the name of which later was changed to the Remembrance Day Act. During the war, it was one of three holidays waived under the War Measures Act, the others being Easter Monday and Victoria Day.
With the expiration of the War Measures Act, Remembrance Day automatically resumed its role as a statutory holiday. Like other statutory holidays, its observance depends on custom, since the Federal Government has power only to close Federal Government offices and banks.
"The day is established as Remembrance Day for both wars by what appears to be common consent," said J.C.G. Herwig, secretary of the Canadian legion.
---

Posted by regimentalrogue at 12:01 AM EDT