"Any Complaints?"
Topic: Humour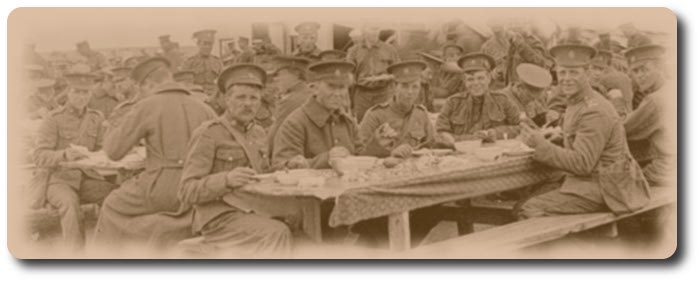 Soldiers eating at Camp Sewell, Manitoba, [ca. 1914-1918]
Glenbow Archives image: NA-4051-2 (Source)
"Any Complaints?"
Lesser Known Regimental Records, James Hope, The British Army Review, Number 30, December 1968
"Any Complaints?" is a military cry that few who have served in the Armed Forces of the Crown can have failed to have heard at some stage of their careers. The 95% who serve in the lower non-commissioned ranks, and feed in the "Men's Dining hall," "Cookhouse," or "Men's Mess," depending on Regimental or Service terminology, are usually far too well mannered to express their opinions to the Orderly Officer in anything but the politest terms should they feel that all is not well with the fare that is placed before them. The Orderly Officer normally is left to judge by the look of pain and astonishment in the soldiers' eyes the real depth of their feeling.
Only on rare occasions are they driven to extremes, and the morning after it became common knowledge that the butcher had cut off a finger in the brand new (and rare in the 1930s) sausage machine, their eyes spoke volumes. Confronted by a silent dining hall, every man glaring balefully at his plate, the very young Orderly Officer rashly, perhaps, enquired "What's the matter?"
"The Bangers," said a sullen voice, after a pause.
Like a ship in full sail the Master Cook came to the rescue. Raising his voice to a parade ground bellow (Cook Sergeants were Regimental NCOs in those days), he thundered:
"So you think the Butcher's finger is in the bangers do you. Well you're wrong, and if you want the proof, here it is." Delving into the copious pockets of his whites, he produced triumphantly the missing finger, intact and unminced!

The scene was a small patch of the Borneo jungle early one very damp morning. Two bashas stood back to back; the one occupied by the Company Commander and his Sergeant major, the other by the Company Commander's orderly and a signaller, both from a village in the wildest parts of Scotland's Highlands. Breakfast from packs, ration 24 hours, was in the course of preparation. the dialogue ran something like this:--
Signaller: "Charlie, this porridge is terrible. I would'na give it to a dawg."
Charlie: "Fits the matter wie it?"
Signaller: "I doot even the Major'll eat it."
Charlie: "Weel, I'll gie ye its nae as guid as my Mither used tae mak, but Mither's nae here so ye'll just put up wie it."
There was a pause and sounds of porridge being tasted, then Charlie added: "Aye the CSM'll no eat it but it'll dae fur the Major. He's an orficer."

Posted by regimentalrogue at 12:01 AM EDT