Trooper to Major in One Promotion
Topic: Officers
British Officer, Cashiered for Hitting Nazis, Promoted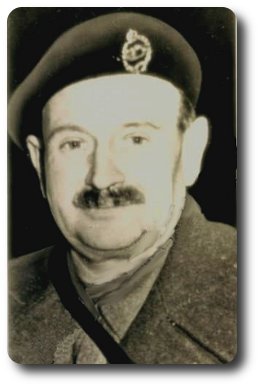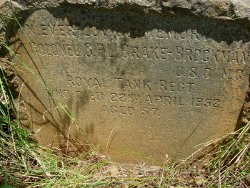 Lieutenant Colonel Royal Tank Regiment, British Army. Awarded Distinguished Service Order (D.S.O.) and Military Cross (M.C.)
Burial:Greytown Cemetery , Kwazulu Natal; uMzinyathi District Municipality; KwaZulu-Natal, South Africa
Source: Find a Grave
The Milwaukee Sentinel, 21 February 1942
Camp Borden, Ont., Feb. 20—(AP)—G.P.L. Drake-Brockman, brigadier who was court martialed out of the British Army for striking two German prisoners, has risen from ordinary tank trooper to major in the Canadian army in little more than a month.
Anxious to get into the fight again under the colors of the empire, Drake-Brockman enlisted as a Canadian trooper Jan. 9, scrubbing floors, carrying coal and standing sentry duty.
His promotion in a single step to the rank of major, which has just come through, left him "dumbfounded" with pleasant surprise. "Great Country, this Canada," he declared enthusiastically.
The incident which resulted in his dismissal came shortly after Dunkirk while he was commanding a tank brigade at an English coastal station.
He struck two German airmen who were brought before him after Spitfires shot down their bomber, he explained:
"The spat on the floor, spat on my shoes, then spat on me and called me a bloody English swine—I don't know who could stand this spitting and insulting, this arrogance and beastliness, but I could not."

British Army Career Notes from London Gazette and Army List
LG 4 Aug 1914 — The Border Regiment, Guy Percy Lumsden Drake-Brockman.
The Border Regiment, the undermentioned Second Lieutenants to be Lieutenants:— Dated 29th October, 1914. — G.P.L. Drake-Brockman.
LG 29 June 1915 — The Border Regiment. — Awarded the Military Cross. — Lieutenant G.P.L. Drake-Brockman.
The Border Regiment. — Lieutenant Guy P. L. Drake-Brockman to be temporary Captain. Dated 17th December, 1915.
Bord. R.—The undermentioned Lts. to Capts.: — 1st Jan. 1917. — G.P.L. Drake-Brockman, M.C., and to remain secd.
The undermentioned appts. are made: — G.S.O. 3rd Grade.—Capt. F. J. Harington, D.S.O., W. York. R., and to be seed., vice Lt. (temp. Capt.) G.P.L. Drake-Brockman, M.C., Bord. R., 28th May 1917.
ATTD. TO HD.-QR. UNITS. — 6th Mar. 1918.; Capt. R. H. E. Bennett, M.C., Som. L.I., vice Capt. G.P.L. Drake-Brockman, M.C., Bord. R.
The undermentioned temp, appts. are made:— G.S.O. 3rd Grade.—Capt. G.P.L. Drake-Brockman, M.C., Bord. R.- 13th Jan. 1920.
"Restd. To the establishment": Bord. R.—11th Jan. 1920. — Capt. G.P.L. Drake-Brockman, M.C.
War Office, 3rd February 1920. The KING has been graciously pleased to approve of the undermentioned awards, on the recommendation of the General Officer Commanding-in-chief, Allied Forces, for distinguished service in connection with Military Operations in Murmansk, North,Russia. Dated 11th November 1919 :— Awarded the Distinguished Service Order. — Capt. Guy Percy Lumsden Drake-Brockman, M.C., Bord. R.
TEMP. APPT. — The 'undermentioned temp, appts are made: — G.S.O., 3rd Grade.—Capt. C. I. Curteis, M.C., R.A., vice Capt. G.P.L. Drake-Brockman, M.C., Bord. R. 1st June 1920.
Border R. —Capt. G.P.L. Drake-Brockman, D.S.O., M.C., to be Adjt. 7th Sept. 1920.
Border R. —Capt. G.P.L. Drake-Brockman, D.S.O., M.D., is restd. to the estabt. 8th Aug. 1921.
Border R.—Capt. G.P.L. Drake-Brockman, D.S.O., M.C., is secd, for service on the Staff. 28th Mar. 1922.
Border R.—Capt. G.P.L. Drake-Brockman, D.S.O., M.O., is secd, for service on the Staff. 1st Mar. 1922. (Substituted for the notification in the Gazette of 21st Apr. 1922.)
TANK CORPS. — The undermentioned to be Capts., 29th Sept. 1923, with seniority as stated:— Capt. G.P.L. Drake-Brockman, D.S.O., M.C., from Border R., 1st Jan. 1917, with precedence next above W. B. Gray, D.S.O., M.C., and to retain his present appt.
ROYAL TANK COBPS. — Capt. G.P.L. Drake-Brockman, D.S.O., M.C., to be Maj. 16th Oct. 1927
ROYAL TANK CORPS. — The undermentioned are secd.:— Maj. G.P.L. Drake-Brockman, D.S.O., M.C., whilst a student at the Staff College, 21st Jan. 1928.
ROYAL TANK CORPS. — Maj. G.P.L. Drake-Brockman, D.S.O., M.C., is secd, for serv. on the Staff in India. — 1st Mar. 1932.
The undermentioned appts. have been made in India:—G.S.O's., 2nd Grade—Maj. G.P.L. Drake-Brockman, D.S.O., M.C., R.T.C., 1st Mar. 1932.
Appointed Brigade Major in India; 28 June 1933 — Maj. G.P.L. Drake-Brockman, D.S.O., M.C., R. Tank Corps, 28th June 1933
Bde. Maj.—Maj. G.P.L. Drake-Brockman, D.S.O., M.C., R.T.C., 20th June 1935.
ROYAL TANK CORPS. — Maj. G.P.L. Drake-Brockman, D.S.O., M.C., is restd. to the estabt. 20th June 1935.
ROYAL TANK CORPS. — Maj. G.P.L. Drake-Brockman, D.S.O., M.C., to be Lt.-Col. 1st Apr. 1937.
Army List 1940 — Drake-Brockman, Guy Percy Lumsden, D.S.O., M.C., p.s.c.

Born 25/10/94. Border R. 2-Lt. 8/8/14. Lt. 29/10/14 (temp. Capt. 17/12115 to 31/12/16). Capt. 1/1/17. Adjt. 7/9/20 to 7/8/21. R. Tank Corps. Capt. 29/9/23. Maj. 16/10/27. R.T.R. Lt.-Col. 1/4/37. (actg. Brig. 2/9/39 to 1/3/40 ; temp. Brig. 2/3/40).
G.S.O.3 France 12/6/16 to 27/5/17. Brig. Maj., France 28/5/17 to 5/3/18. Brig. Maj., Milford Haven Garr. 3/3/18 to -/9/18. Brig. Maj. British Mil. Mission to Russia -/9/18 to 25/10/19. G.S.O.3 Irish Comd. (temp.) 13/1/20 to 31/5/20. G.S.O.3 1/3/22 to 31/3/22. Staff Capt. R. Tank Corps Centre 1/4/22 to 20/10/23. G.S.O.2 India 1/3/32 to 27/6/33. Brig. Maj. India 28/6/33 to 19/6/35.
1914-21. France & Belgium 24/11/14 to 30/3/15 and 18/11/15 to -/2/18. Russia -/11/18 to 9/10/19. Despatches L.G. 22/6/15, 11/12/17 and 3/2/20. 1914-15 S. B.W.M. V.M. D.S.O. M.C.

ROYAL ARMOURED CORPS.; R.T.R. — Lt.-Col. G.P.L. Drake-Brockman, D.S.O., M.C., on completion of period of serv. in comd. remains on full pay (super-numerary), ist Apr. 1940.
ROYAL ARMOURED CORPS.; R.T.R. — Lt.-Col. G.P.L. Drake-Brockman, D.S.O., M.C. (5336), is dismissed the Service by sentence of a Gen. Court-Martial, 13th Nov. 1940

Posted by regimentalrogue at 12:01 AM EDT
Updated: Monday, 29 September 2014 12:02 AM EDT