Weird Camp Assembly Line
Topic: Canadian Army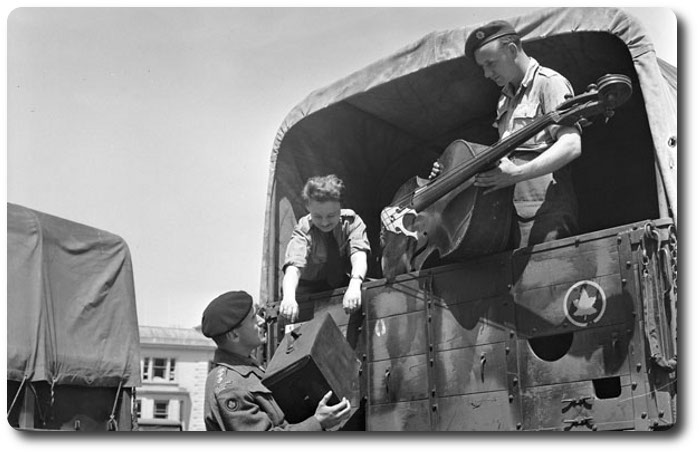 Personnel of the Canadian Army Show loading equipment into a truck, Guildford, England, 21 June 1945. (L-R): Captain Maurice Burke of The British Columbia Dragoons, the Show's liaison officer; Private Daphne Marshall; driver Luther Daniels. Photographer: Harold D. Robinson, Location: Guildford, England. Date: June 21, 1945. MIKAN Number: 3596554
Weird Camp Assembly Line
(Special to the Maple Leaf)
The Maple Leaf, 30 June 1945
Ever been to an army camp where, if you didn't step lively, you're liable to be trampled underfoot by hurrying, burly sergeants-major complete with lipstick and rouge? Or maybe your idea of a properly conducted military establishment doesn't include having OR's out in an open field tooting away on saxophones and clarinets.
Just outside Guildford is one of the strangest army camps. It is operated by Canadian Auxiliary Services Entertainment Unit (Army Shows) and is the spot where the troops shows are put together, hammered into smooth shape and put on the road.
At the moment, the organization has eight entertainment units in the field, five small groups touring hospitals, another five shows in rehearsal and talent for three more on the way over from Canada. A brand new show every week is being turned out by this show factory. That sort of activity needs plenty of talent and the army shows right now could use at least another 135 service performers. It's a mighty swell chance for anyone in khaki and with a bent for any department of the show business to acquire some valuable experience.
Greater Need
All the hectic activity on the entertainment front reflects recognition of the fact that, with active operations over, there is a greater need for good entertainment to take up the serviceman's time. The Army Shows these days are particularly pointing their talents toward entertaining the occupational forces and the lads who are getting ready to go home.
Canadian service personnel, of course, have been providing entertainment for their fellows ever since the early days of the war, principally through such groups as the Tin Hats, Forage Caps and Bandoliers—some of whose personnel are still in khaki shows. However, the present set-up did not really get going until around Christmas, 1943, when the big Army Show in Canada was broken up into five separate units and came overseas.
The whole organization at the time amounted to 135 people; total strength now is 864. Always the trend has been toward bigger and more elaborate shows. The early units went out with a piano, accordion and drums; now each once had at least a nine-piece band while three units boast a 16-piece orchestra. Biggest and best production to date has been "Apres le Guerre," which has 45 in it. This show was prepared strictly from scratch, made ready for the road in only three weeks and hjas just started on a Continental jaunt. All the army shows are being shot over to the continent as soon as they are ready, the boys there getting top priority in this high-grade Canadian brand of entertainment.
Each unit is completely self-contained, does its own cooking, hauling and fatigues and after the show is over all performers pitch in to move the scenery. All the necessary equipment is taken along with the show, including the power supply—each unit being equipped with a portable Diesel generator which is capable of supplying enough power to light up at least two miles of city street.
Quick, easy movement is a prime necessity for these units because during their three-month Continental sojourns they play up to 150 shows. When the war was on they very often moved up the line with fighting troops and played 500 yards from the enemy. A month after D-Day a unit under CSM Jimmy Shields and CSM Jimmy Hosack, both of Toronto, went to France and played from Arromanches right up to near Nijmegen. In eight days these entertainers put on 22 shows for the 3rd Div. with their theatre being a cleared out cave at Fontaine-Henri.
Getting these swiftly-paced shows together is a highly detailed job and their excellence is a tribute to the talent and technical efficiency of the whole Army Show organization. Biggest share of credit belongs to Major Rai Purdy, CO of the outfit, who used to run his own radio production set-up in Toronto.

Posted by regimentalrogue at 12:01 AM EDT