Permanent Force Reductions, 1914
Topic: Canadian Army
As the following news article shows, only weeks before the outbreak of the First World War, Col Sam Hughes, Minister of Militia, was set to reduce the strength of Canada's Permanent Force (the Regular Force). Never a supporter of the Permanent Force, this is just one more example of Hughes' attitudes towards the regulars.
Reduce Strength Canadian Militia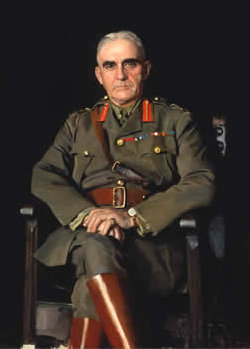 Colonel Sam Hughes
Minister of Militia
Engineers and Army Service Corps to be Cut Down
The Daily Telegraph; 15 July, 1914
Ottawa, July 17.—The permanent strength of two units of the permanent force, the engineer corps and the army service corps is to be reduced by the Minister of Militia.
The numbers of both units as at present constituted are considered too great, and Col. Sam Hughes intends to reduce both of them to a workable size. The Canadian army service corps is now one-third as great numerically as that for the whole British army, in spite of the great disparity in the size of the Canadian and British force. These units were constituted in their present strength ten years ago.
The present strength of the army service corps is about 450 and of the engineering corps about 300.

Posted by regimentalrogue at 12:01 AM EDT
Updated: Tuesday, 16 September 2014 12:09 AM EDT