Feeding the Troops; Rural vs. City Corps
Topic: Army Rations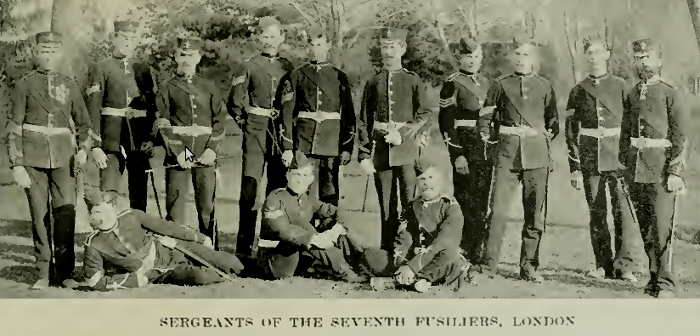 Military Minutes
Feeding the Troops; Rural vs. City Corps
By: Major R.E.D. Tape
The Free Press, London, Ont., Saturday, September 5, 1908
The 25th Regiment of St. Thomas goes into camp at Ridgetown to-day for three days' experience in camp life, to gain a smattering of the many duties which cannot be acquired in a drill hall. This is an annual event with the 25th Regiment and strange to say, although such is actually required to carry out the course of training laid down in the little red, the whole expense has to be borne by the regiment itself, even to the cost of transporting the tents and blankets required, from London to Ridgetown, and back again, and of the washing of the blankets. Great encouragement to a city regiment to make itself efficient, isn't it?
Every city regiment should go into camp for a few days every year as a part of its annual drill. A great deal of a soldiers' training cannot be acquired otherwise, and the great lack of knowledge of camp duties and work on the part of city corps was well illustrated at the Quebec tercentenary. Few, if any, of these corps knew how to feed themselves. With the Government ration and an allowance of 35¢ to 75¢ per diem for each man paid by the regiments, they were much worse off than the rural regiments, which had nothing but the same camp ration, simply because rural regiment have twelve days experience in messing every year, while city corps have practically none. In many other ways also the city corps were out-classed by their rural comrades.
This brings to mind a question about which we have heard a great deal during the past month. This is the meeting of the 7th Regiment at Quebec. The regiment employed a caterer and cooks for the occasion, gave him the government ration, which is all that a man can eat, and also 35 cents a day for each man for extra rations. Yet in spite of this we have yet to hear of one man who had a square meal during his week in Quebec. An elaborate daily bill of fare was prepared for the occasion, but was never carried out. The cooking was described as the rankest possible. Only a part of the rations was ever seen by the men, and if the caterer furnished 35 cents worth of extras for each man each day he must have bought them at famine prices. Thirty-seven and a half pounds of jam were drawn every day, yet very few got a glimpse of any of it, and when it was served it was simply a thin red line on a piece of bread. A similar quantity of beans was drawn every day for soup, but no one saw any bean soup. Bacon appeared on two or three occasions, when it was drawn for every day and although 300 lbs. of beef was issued every day the men forgot what roast beef looked like. What wasn't burnt up in the incinerator was dished up as stew. The vegetables met the same fate.
The messing arrangements were also of the worst. Instead of cooking for each company being done separately, and orderlies detailed to wait on the tables, the cooking for the whole regiment was done in one place, and each man of the three hundred or more had to parade at the cook house with his bowl and plate for a squirt of something in one and a shot of something on the other. In fact, everything is described as having been most unsatisfactory, and was the cause of no end of grousing.
The reason is quite plain. The caterer wasn't there for his health. He was after all the filthy lucre he could get, and while those who should have looked after the messing were enjoying themselves in the city he was busy increasing his pile of velvet.
We have yet to hear of any rural corps being stung in this manner, and it is up to the city regiments to learn a little about this particular and most important part of its training.

Posted by regimentalrogue at 12:01 AM EDT