The Roots of Soldiering
Topic: Discipline

The Roots of Soldiering
"Drill and Discipline," by Major-General J.H. Beith, C.B.E., M.C., Journal of the Royal United Services Institution, Vol. LXXXIV, February to November, 1939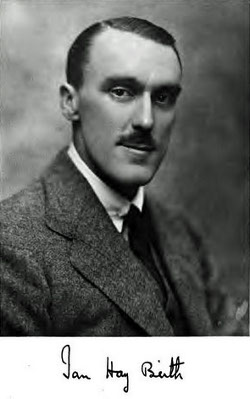 Major General John Hay Beith, CBE
(17 Apr 1876 – 22 Sep 1952)
On the outbreak of war in 1914 Beith joined the army as a second lieutenant in the Argyll and Sutherland Highlanders. In 1916 Beith was awarded the Military Cross for his conduct in the Battle of Loos. In 1939, Beith was given the honorary rank of major-general.
…the roots of soldiering, which are these:—
(a) The soldier's pride in his own personal smartness and efficiency, and in the unit to which he belongs. Many a time in the history of our Army pride of Regiment alone has steadied men in a tight corner.
(b) Instinctive ability both to obey and to command. The soldier is always doing one or other of these, and intensive drill is the best method of accustoming a commander to impress his will upon those under him, and them to obey instinctively and smartly.
(c) Adaptability. A soldier must instantly be ready to take orders from his commander of the moment, however frequently the hazards of battle may transfer that command; and be equally ready to take command himself should occasion arise.
(d) The sense of Order and Discipline. This enables troops to be assembled and manoeuvred rapidly and without confusion at moments of emergency.
(e) Resiliency, or quick power of recovery, which restores the morale of disorganised troops in the shortest possible time.
(i) Physical and mental endurance, which enable a soldier, however desperate the situation, or however exhausted he may be, to carryon far beyond the limits of his normal strength and courage.
Such are the qualities of the true soldier; and experience has proved that they are best and most lastingly ingrained by simple routine exercises in the elements of soldiering, continually and patiently repeated. So trained, a soldier will be able, whatever the danger and distractions about him, to concentrate steadily on his duty, whether it is to lead, or follow, or act upon his own initiative. Then it is that he will appreciate the value of his early and, at times, perhaps ruthless training, for it will have made him a keen, flexible and fully tempered instrument.

Posted by regimentalrogue at 12:01 AM EDT